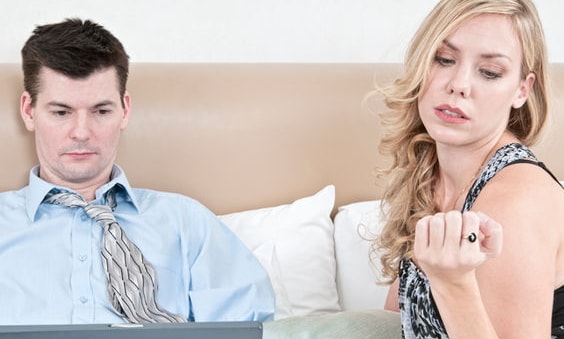 Signs of a Deceitful Wife, Woman: How To Know If Your Partner Or Girlfriend Is Lying, Deceiving You
 Because of the nature of the world, a man needs to know if he's dating the right woman or not. People practice the kind of love they never needed in the name of dating each other.
There is a time for everything and you need to be 100% sure as a man that the woman you're going out with is compatible with you to marry as a life partner. And if not, the relationship should break right away. You dare not continue with such a relationship that wouldn't last for a long time.
I've seen a lot of circumstances in life in which a relationship would be kept for several years, yet, it wouldn't end up in a life partnership. Yes, there are hundreds of thousands of these circumstances both in Nigeria and in the other parts of the world.
As a man, you need to understand the fact that the time of choosing a life partner is the most delicate stage in a man's life. That is the stage that determines a fortune in a man's entire life. So, in choosing a life partner among the women, a number of factors are worth considering.
To really know if a woman is deceiving you, you need to consider the following factors:
A deceitful woman would be money conscious
A deceitful woman wouldn't pick her calls in your presence
A deceitful woman wouldn't want you to have access to her mobile phone
A deceitful woman keeps another guy after you
A deceitful woman would not show the genuine love
A deceitful woman would fight you over simple issues
A deceitful woman would be arrogant
A Deceitful Woman Would be Money Conscious
This is the very aspect the generality of men is most meticulous about when trying to choose a life partner. Particularly, a man would willfully ask a woman's hand in marriage when he finds that she has all the attributes of a virtuous woman. He needs to figure out that even when things go down financially, she would be willing to endure the circumstances.
Do you really assess your fiancé if she is money conscious or not? Are you really sure you're going out with a woman that genuinely loves you for who you are? Are you sure the woman would love to spend the rest of her life with you, whether rich or poor? As part of the factors to consider when finding out if a woman is deceitful or not, this is noteworthy.
From my personal experience in a life partnership, women generally admire pleasure and they wouldn't ever want to be where they will suffer, but there's still a possibility to figure out if the woman you're dating would be ready to spend her entire life with you whatever happens now or in the future.
For instance, there was this friend of mine who worked in an oil company prior to getting a life partner. And for several years after he had been engaged with his woman in a life partnership, he was still with this company earning his full-time monthly income. All of a sudden, a problem occurred in the office and he was dismissed for reasons unknown to him.
So, he stayed back at home while hoping to get another job offer. And unfortunately for him, he couldn't get a meaningful job until the first 2 years of his dismissal from work. His financial life kept getting worse and it got to a stage when it began to affect his marital home. His wife began to constitute a lot of problems for him especially now that he could no longer drop a lot of cash as he used to do before.
Sometimes, his wife would lock him up over financial matters, but he wouldn't react to all of that. She woke up one morning and packed all her belongings claiming that she couldn't bear the miserable lifestyle with him any longer. Yet, he didn't say a word.
Not later than six months after she had packed out of the house, the same company where he was dismissed sent a letter of apology to him for taking such a destructive step against him, attached a check of #2000000 as a token amount to compensate him for the blacklisting, paid his salaries for all of the months in which he was away from work and promoted him to a higher position in the office.
I have this question for you as a man. If you were the man, would you accept the woman back into your life again on apologizing to you? And as a woman, if you were the wife, would you be justified and bold enough to apologize to the man, asking to be forgiven of your desperate deeds?
A Deceitful Woman Wouldn't Pick Her Calls in Your Presence
Have you seen a woman who wouldn't want to pick calls in the presence of her man? What do you think this would imply in the imagination of a man? How would a man feel when this happens? Obviously, no man would want to continue with such a woman in the life partnership. It's a clear sign of a deceitful woman. It is a clue for a man to know if the marriage must hold or not. It's an initiative for a man never to fall for a deceitful woman in a lifetime.
The little experience I had recently was so terrific in that a couple ended up killing each other. This particular one occurred in my street when a young man came around to pay his future partner a visit. This particular woman happened to be a fashion designer in the street. Shortly after the man arrived, he saw that the lady's phone was ringing, but she didn't want to pick it right in his presence.
He kept quiet and allowed her to go wherever she would like to pick her private call. So, on getting back to him, he asked her who was calling her, but she refused to disclose to him. After he had asked repeatedly without getting a response, he ran out of patience and stabbed the woman in her stomach.
Eventually, the woman lost her life in that combat and when he saw that he had murdered someone, he stabbed himself too with the same knife he used initially on the woman and he lost his life too in the process all because he wanted to know who the person that called her was. They both lost their lives and the terrific occurrence shook the whole street for almost a week. This was a true life story. It happened to some people I've personally met many times.
So, if you're dating a woman that truly loves and wants to live with you, these are great signs to know. And you can be safe asking her hand in a life partnership.
A Deceitful Woman Wouldn't Want You to Have Access to Her Mobile Phone
This is a sign similar to the previous one discussed above. When you're moving out with a woman that wouldn't ever want you to have access to her mobile phone, know that she has a skeleton in her cupboard. Know that she's a deceiver who only came to take that which you have from you. So, you must end the relationship up straightaway lest you toy with a risk.
Not all women that come your way might be good for you. Not all the women that want you to choose them as a partner might be worth your life. So, considering factors like these might save and help you out of unforeseen marital issues.
When you're just beginning a relationship with a woman, your focus should be on figuring out if she's a virtuous woman or not. Your goal should be centered towards achieving the best from the relationship. And the result should be worth living for.
If the woman hides her mobile phone from you, and you still continue in a relationship with her, know that you'll be frustrated in the long-run.
A deceitful woman keeps another guy after you
You'll know a woman is deceitful and she wouldn't be the right woman to choose as a life partner with any of these signs. As we discussed in the third factor when you see a woman hide from you whenever she wants to pick a call, she might be keeping another man after you and she wouldn't be the best woman to be allowed in your life.
If a woman is keeping another man after you, you may be liable for the following risks:
You may be endangered through infected diseases such as HIV Aids and many more.
You may be frustrated by the woman after the whole investment you've incurred on her so far.
Your life is not safe dating a girl that is going out with another man.
You're in for immoralities
You'll be disappointed
You'll waste a lot of resources
 A deceitful woman would not show the genuine love
Every man deserves genuine love from a woman though a man is expected to love his wife from the bottom of his heart. But there are situations in which you may want to do your best for the woman you're going out with, but she wouldn't give you a chance in her life for you to do that. So, wishing to love your woman dearly is one thing, and getting the right person that will surrender herself totally for you is the other.
If you notice that the woman is not willing to submit herself, then never continue with her in the relationship. Make the right decision and run for your dear life. Such a woman could be dangerous to your peaceful living. She will compromise your intelligence.
Except for love, there's nothing so important about life partnership. You must ensure you choose someone you will love in a lifetime. You must create an avenue to thoroughly assess the woman in order to be sure you're choosing the right woman.
A deceitful woman would fight you over simple issues
A deceitful woman would quarrel or fight you over meaningless matters. As a man, you may want to imagine the kind of troubles you will bear from time to time when you bring her fully into your marital life. So, you don't have to choose a life partner in a hurry. You must do it logically or systematically.
A deceitful woman would be arrogant
When you notice an act of arrogance in a woman, she might not be the suitable woman for you. She might be a deceitful woman. If not, every woman is expected to humble herself to the core. A virtuous woman is supposed to be submissive in every respect.