Crime News
Single Mother Who Abandoned Kids To Meet Sex Partner In Calabar Arrested After Twins Die In Housefire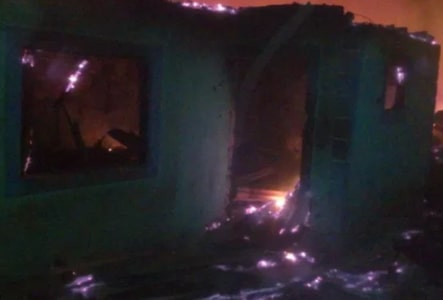 Sleeping Twins Burnt To Death In Calabar As Mother Sneaks Out To Meet Boyfriend
Single Mother Who Abandoned Kids To Meet Sex Partner In Calabar Arrested As Twins Die In Fire outbreak
By Calabar Reporter
A tragedy which happened at a residential building in Cross River state, has claimed the lives of twin brothers, according to report.
It was gathered that the fire outbreak occurred after the mother of twins, simply identified as Mrs. Offiong, allegedly sneaked out of the house by 1:00am to meet her boyfriend last Sunday at the Njahasang area in Calabar Municipal local government area of the state.
It was scooped that the twins, aged 5 were burnt by a fire which resulted from an over burnt candle stick while asleep inside their house when their mother went out to meet her lover. 
According to Calabar Reporters, an eyewitness who narrated the story said,
"The woman had been leaving her house every night to visit her boyfriend and there was no public power supply.

"She lit a candle stick and left it in the house. Unfortunately, the candle burnt out and the house went aflame. The children were burnt to death."
He further alleged that the woman was in the habit of leaving her house every night to visit numerous male friends adding that when the incident occurred, people were not happy with her.

"I can't confirm whether she is a single mother or not but what I know of her was that those children were twins, boys and five years each" he stated.

Confirming the story, the Police Public Relations Officer (PPRO) in Cross River State, DSP Irene Ugbo, said that the incident occurred on Sunday night. "The story we gathered was that she normally leaves her house and slept outside. Sometimes it was alleged she slept with her boy or man friend.

"On that particular night, Sunday, she left her house as usual and lucked the children in with candlelight on when PHED seized the supply.

"The children are twins and five years each – neighbours almost lynched her but Police rescued her. She is in our custody (Police) and her name is Mrs Effiong", she said.