Columns
Before You Correct Others, See To It That You Have Done The Right Thing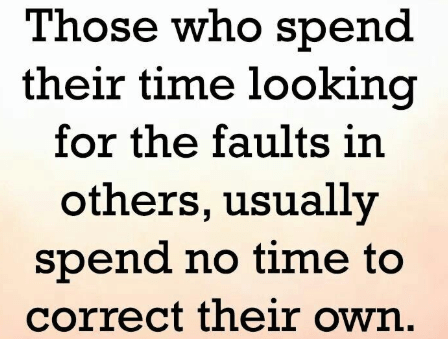 Before You Correct Others, See To It That You Have Done The Right Thing
So this morning I gave my 5 year old son, a 30 minutes lecture on why he cannot wear the two back pockets on his trouser to the front, ( his trousers only have these) how it had to be at the back. He asked his usual question; but mommy why? I didn't have a good response, I said that is the proper way to do it, that is how it is done.
Well he did not stop there, he went on to say; but mommy, it needs to be in the front because if I want to take my money I can just put my hand right in front of me and reach for it, I don't need to put it to the back. I was of course in a hurry and I said , Mr man that is how it is done.
Funny twist: I shrugged the whole incidence of, and we both went to school, after dropping him off, I was on the way when I discovered that in fact, I had also worn my trousers with both back pockets to the front. This brought the earlier incident with my son to memory and I learned two lesson.
First, before you correct others, see to it that you also have done the right thing. In life we are so quick to spot the faults in others, especially when we ourselves make the same mistake. This government is bad, this person is bad… how would you act if you were in the same situation? It is easy to judge without knowing the circumstances surrounding a person's actions or decision. My son had in fact been wearing his trousers like that for about three days, and I just assumed that he didn't know what he was doing, not until he had the opportunity to express the motive behind his actions did I know that his actions were in fact intentional and logical.
Second lesson,use your brain. We have been raised in an environment that has conditioned us (like robots) to do a thing because everyone is doing it or because someone said this is just the right way to do it. An action is unacceptable until a person "notable" has said this is how to do it. My son was right and logical in his conclusion; why do I have to reach to the back of my pocket to reach for my money, when I can do it in front ( lol.He doesn't have any money).
Maybe I have been conditioned to follow what everyone does.This doesn't however mean I have to continue that way, and it also doesn't mean I have to train my children to do same.
We need a daily reminder to think outside the box by using our brains; question the norms and above all don't condition our children to think or act in a certain way because everyone else is doing it.
FYI: I am going to wear my trouser that way (at least for the whole of today).
On a lighter mood; why should the pockets be at the back sef?