Hot Gists
Tee Mac Dares Bishop David Oyedepo; Expresses Frustration Over Oyedepo's Blessings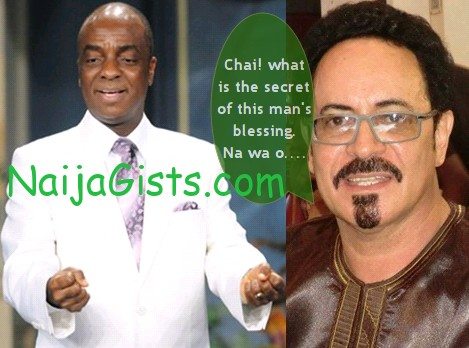 Oct 9, 2012 – Tee Mac Dares Bishop David Oyedepo; Expresses Frustration Over Oyedepo's Blessings
To those who do not know him, Tee Mac Omatsola is a popular flutist and the president of the Performing Musicians Association of Nigeria. naijagists.com
Few days ago, Tee Mac who obviously had a bad day took to his Facebook page to express frustration over David Oyedepo's newly acquired aircraft.
He hurled all sorts of insulting words against the highly respected man of God.
He even said God will punish him and that Oyedepo is a typical (tax free) fraud
Bishop David Oyedepo is the General Overseer of the Living Faith Church Worldwide, Winners Chapel and he deserves no INSULT.
On his Facebook page, Tee Mac said a whole lot of nonsense least expected from a man of his caliber.
Below are few of his rants:
Tee Mac Rants About Bishop David Oyedepo
God will punish him, my partner sold him the Bombardier Challenger Jet for 45 million USD and he paid a premium of a couple of million US to jump the cue. Robbie Honerkamp there are real men of God who use commercial airlines, there are musical stars who use commercial airlines, Oyedepo is a typical grabbing (tax free)fraud:
To reply his allegations, one of his fans identified as Chris Kehinde Nwandu Ckn said: that's a big allegation my brother
And he replied with the following:
Chris what allegation, find out what a Challenger costs and he has more than one air plane. My Quarry business supplied his organization gravels for 2 years fro his countless construction business, I have seen more than many of his "flocks"
Tee Mac Swallows His Pride For Insulting Oyedepo
Tee Mac got more than what he bargained for after his Facebook rants about Bishop David Oyedepo went viral. He lost more fans than he least expected.
As at today, here is what Tee Mac said:
I was angry when I saw on a FB site bya CKN the Challenger Bombardier plane(Mike Adenuga has one too, sold by mypartner to him) owned by Bishop Oyedepo. In Nigeria at the moment millions do not know where to take the money from to buy their next meal; millions go to bed hungry and then this opulence by a "Man of God"! I may have been a bit harsh and somehow regret that I even responded to that FB message, but I am a bit out spoken and don't mean bad.
"I have seen Pastors and Men of God in Nigeria who carry bags of rice on their shoulder to help the Hungry, who drive cheap second hand cars and their office is a small cubicle, because they believe the money given to them by their congregation is given to them to distribute to the poor. I know a man of God who heals hundreds and doesn't ask for one Naira, no he will even give the poor and sick transport money to go home.
"My partner and myself tried to sell him a second hand cargo plane so he can fly food and blankets to disaster areas, but that man of God stated: "I can not own a plane, even if you prepare a good lease/ repayment schedule, what will my congregation think? The money they put into the envelops on Sunday must be used to the last Naira for charity only".
 A Piece of Advice For Tee Mac
It is very obvious you are going through a rough time in your finances or business right now as it has reflected in all your messages.
You don't have to be jealous of other peoples' achievement.
Pray for God's blessing on your own.
A point of correction, God will not punish Bishop Oyedepo, God will continue to bless him and others serving God faithfully.
Get a life dude!