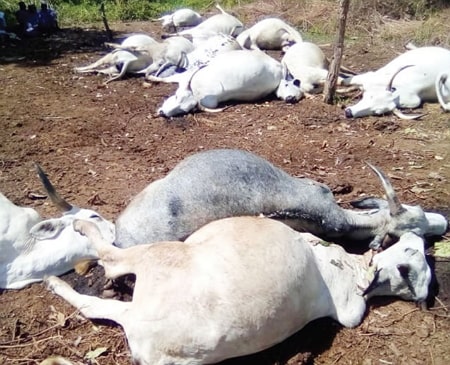 Fulani Herdsmen Flee As Thunder Kills 17 Cows Mysteriously At Gaa Elesun Village In Iba Town Osun State
Lightening strike  on Friday evening killed 17 cows and two sheep in Gaa Elesun village, Osun State.
According to sources in Gaa Elesun, a village under Iba town, said the incident occurred around 6:30pm.

The animals, it was learnt, were tethered after grazing for some hours in the village when it started threatening to rain.

It was learnt that the herdsmen, who returned into their huts after the day's work, suddenly heard a thunder and fled the village in commotion.

The baale Fulani of Iba, Jimoh Soliu, said herdsmen in the area had been living in peace with their host community for several years without rancour.
He said apart from the animals that died, many others, as well as inhabitants of the village suffered shock.
Soliu said;
"It happened around 6.30pm on Friday. We just returned to our village after grazing.

"We tethered the animals and our men had already retired to their huts because it was threatening to rain. Suddenly, we heard a thunder. We lost 17 cows and two sheep to the incident. Many of the animals in our herd also suffered shock.

"Many of our men also suffered shock. Some of them were just returning to life. It was a strange occurrence but we are not blaming anyone."
Reacting to the incident, Eburu of Iba, Oba Adekunle Oyedeji, said people of Iba had over the years been living harmoniously with Fulani natives without any issue.
The monarch in a statement signed by his media assistant, Mr Bamigbola Michael, said, "The death of the cows belonging to the Fulani cattle herders living among us was a natural occurrence occasioned by a thunder that struck in the town.
"The cows were killed by thunder at Apala farm in the territory of Iba, the headquarters of Ifelodun Area Office. The community in collaboration with the leadership of the Fulani community is on top of the situation.

"The Eburu in Council has directed the owners of the cows to burn them to avoid epidemic in the town. The community is in peace and the people live peacefully with all non-indigenes including the Fulanis."