Entertainment News
Tiwa Savage: Her Rise To Stardom, Awards, Endorsement Deals & Accolades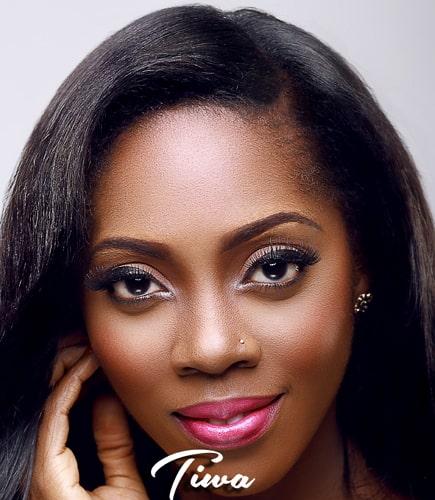 Tiwa Savage: Her Rise To Stardom, Awards, Endorsement Deals & Accolades
Tiwatope Savage, who is fondly called Tiwa Savage, is a household name in the Nigerian music industry and the African entertainment scene at large The screen diva's rise to fame is a perfect example of hardwork, having worked her way from the lowest point to the very top of the music industry.
In recognition of Tiwa Savage's musical exploits, with a view to inspire upcoming female entertainers, we'll be taking you through the career journey of the music star, from the beginning, through thick and thin, to where she is today.
Tiwa Savage Childhood, Early Days
The singer was born 39 years ago in Lagos, on February 5, 1980. She was born into the family of Madam Cecilia and Mr. Savage, who, at the time of Tiwa's birth, were resident in Nigeria.
In 1991, Tiwa Savage alongside her family relocated to the United Kingdoms, and she was subsequently enrolled at a high school in London. While in the school, she discovered her passion and honed her musical talent. She was, at the time, a member of the orchestra band, where she served as the lead 'trombone' player.
Less than a decade into Tiwa Savage's sojourn in the West, at the age of 16, she made her way into the American music scene, which is widely viewed as the biggest and most lucrative in the world. During this time, she served as a backup singer/vocalist to prominent musicians like Mary J. Blige, Emma Button, George Michael and Chaka Khan among others.
While the music star was making subtle waves in music, she was also striving hard to make headway in her studies. After her high school education in London, she enrolled at the University of Kent, where she obtained a degree in Business Administration, and subsequently secured an employment with "The Royal Bank of Scotland".
However, not to be held back by the distraction and financial security offered by the bank, she chose to follow her passion and dream of becoming a globally revered music star. Consequently, she left the bank to pursue her musical career.
The Emerging Diva
Tiwa Savage's career growth in music, as described above, is a perfect description of hard work, patience and perseverance. The super-talented star spent most of her early career in the background; more as a backup vocalist and less as a songwriter.
According to the star singer, one notable turning point in her career, was the experience she acquired at the popular talent sourcing program – "The X-Factor" – which she participated in (in the UK) some time in 2006. She managed to make it to the round of 24, where she was eventually voted out. As emphasized by the artiste, The X-Factor sharpened her up for what to expect and how to handle the pressure that comes with the limelight.
The singer, in her quest to become a superstar musician/vocalist, enrolled at Berklee College of Music, where she acquired invaluable knowledge and skill in music. She graduated in 2007, and was duly awarded her professional degree in music. Acquiring the degree, according to the singer, facilitated her transition from a backup singer to the lead singer that she is today.
In 2009,  about two years after Tiwa Savage's graduation from the music college, she got her first major breakthrough. She secured a music deal with ATV Music Publishing, under the aegis of Sony Music Group. The deal was a songwriting deal, which saw her write songs for top Sony Music stars like Kat Deluna, Mia, Fantasia, Monica and Babyface among others.
Notable songwriting works of Tiwa Savage, under ATV/Sony, include Catch Me (by Monica), Push Push (by Kat Deluna) and Collard Greens & Cornbread (by Fantasia). Furthermore, while with ATV/Sony, she was privileged to share the stage with the likes of Beyonce, Whitney Houston, 50 Cent, Eminem, Black Eyed Peas and other "who-is-whos" in the American music industry. While this was a great privilege, she wanted to be her own star and not ride on anyone's glory. Subsequently, she found her way home.
Homecoming: Tiwa Savage's Entry into the Nigerian Music Industry
After spending two decades in the West (the UK and the US), Tiwa Savage brought her game home. The singer made a rather explosive entry into the Nigerian music scene, with her debut single titled Kele Kele Love. The song topped many music charts in the country shortly after it was released.
Tiwa's penetration into the Nigerian music industry, as a newbie, was championed by her ex manager and estranged hubby, Tunji Balogun, who is popularly called TeeBillz. Shortly after, in 2012, she secured a record deal, as a collaboration (of her music group – 323 Entertainment), with foremost Nigerian music group, Mavin Records (formerly known as Mo' Hits Group). Subsequently, she released her debut studio album titled Once Upon a Time, with 19 tracks and 2 bonus tracks.
Few years down the line, Tiwa Savage emerged as one of the biggest music sensations in the industry. And she solidified her spot by releasing her second album – R.E.D – in 2015. The 16-track album featured top Nigerian music stars like Olamide, 2Baba, Don Jazzy and few others.
The Queen is Crowned!
Tiwa Savage's exploits over the years have earned her significant recognition and accolades, both at home and abroad. Recently, in 2018, she edged out the likes of Wizkid, Davido, AKA, Cassper Nyovest and others to win the Best African Act award at the "MTV Europe Music Awards". This, by virtue of MTV standard, stands her out as the best music star in Africa, at least for the next half-a-year or thereabout.
In retrospect, two years prior to her coronation as the Best African Act (in 2018), Tiwa Savage secured a management deal with Jay Z's ROC Nation, in a deal valued at mutiple millions of dollars. The deal is reportedly multilateral, in which Tiwa Savage stands to benefit as an individual, while her record label – Mavin Records – also stands to benefit as a group.
Roundup; Tiwa Savage is arguably the biggest female music act in Africa today. And by some standards, she is, in fact, the best African music star. As a female star in her late 30s, many felt her career is on the downward trend. However, as the day goes by, the singer keeps proving them otherwise.
Tiwa Savage Endorsements Deals
Below is a summary of Tiwa Savage's endorsement/sponsorship deals and awards, in recognition of her talent, fame and philanthropic works:
Endorsement Deals
MTN Nigeria (2013) – 30 million Naira (est.)
Forte Oil: Undisclosed
Maggi: Undisclosed
Pepsi: Undisclosed
And more.
Awards Won By Tiwa Savage
City People Entertainment Awards (2011): Female Musician of the Year
Dynamix All Youths Awards (2011): Most Promising Act
FAB Magazine Awards (2011): Most Stylish Female Artiste
Afrotainment Museke Online Music Awards (2011): Best R & B Soul Song (Kele Kele Love)
The Headies (2012): Best Vocal Performance (Love Me; Love Me; Love Me)
Nigerian Music Female Awards (2012): Best Highlife (Ife Wa Gbona)
MTV Africa Music Awards (2014): Best Female Artiste
City People Entertainment Awards (2014): Female Musician of the Year
Afrikan Muzik Magazine Awards (2014): Best Female Musician (West Africa)
Nigerian Entertainment Awards (2014): Best R & B/Pop Artiste of the Year
Nigerian Entertainment Awards (2014): Artiste of the Year (Female)
Channel O Music Video Awards (2014): Most Gifted Female Act
COSON Song Awards (2015): Best Collabo Song (Girlie O with Patoranking)
MTV Europe Music Awards (2018): Best African Act