Columns
Top 10 Most Beautiful Places To Visit In Nigeria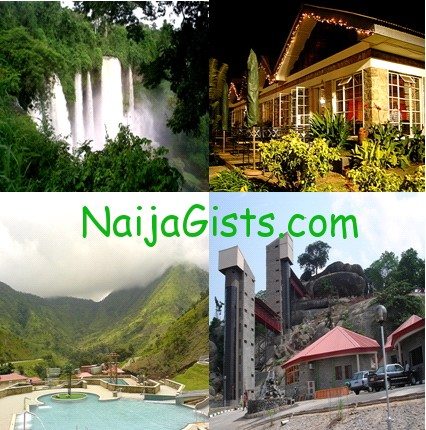 July 9, 2012 – Top 10 Most Beautiful Places To Visit In Nigeria
The natural beauty endowed on Nigeria is undeniable as thousands of tourists from different countries flock the country yearly.
So if you are in Nigeria or planning to visit Nigeria soon, below are the top 10 most beautiful places to visit in Nigeria in 2012 and beyond. naijagists.com.
Top 10 Tourist Attractions In Nigeria
Yankari Game Reserve
Yankari Game reserve is an historic national park located in Bauchi.
Natural Spring At Yankari Game Reserve
The Natural Spring at Yankari Game Reserve is a place to enjoy the fullness of nature. You can relax and unwind in this warm spring
Cave At Yankari Game Reserve
This beautiful cave host Wiki Warm Spring. It has beautiful accommodation and restaurants with a mini-museum and a safari.
The museum has over 50 different species of animals which includes Antelopes, Leopard, Elephant , Baboons and Lion.
The Baboons have been trained to cohabit with humans.
Obudu Cattle Ranch
Obudu Hills also called Obudu Mountain Resort is located in the Obaniku Local Government area of Cross River State.
The view here is awesome. You need to take your camera along because there are many beautiful sceneries here.
President Goodluck Jonathan took his vacation here few months ago.
Erin Ijesha Waterfalls
Also known as Olumirin Waterfalls, Erin Ijesha Waterfall is a natural sauna.
It's conveniently located in Erin Ijesha, Osun State Nigeria.
It's a site to behold & appreciate the wonders of nature.
According to a study carried out on the site, the water is situated within 7°30' and 8°45' North and longitude 4°31' and 5°East.
Amazingly, when you arrive at the falls, it doesn't look like anything out of this world until you begin climbing the seven levels of the ascending plains of the waterfalls.
The view at all levels is wonderful and the freshness of the water is energizing. However, the last and seventh level is definitely the most intriguing, well that's if you ever dared the torturous climb.
For most tourists and fun seekers, climbing up to the third level can best be equated to traipsing the snowy steeply mount Everest. Obviously, being at these different levels and just basking in the invigorating freshness of the falls is an unforgettable experience, but guess what?
The place to be is definitely the seventh level. Why? Not only does it lie at the peak of the falls, it is also hosts a settlement where many of its inhabitants have lived for several years.
Apart from the beautiful site, present at the Erin Ijesha Water fall are also fresh water prawns which belongs to the infraorder Caridea family, Atyidae and genus Caridina (biological terms).
It is commonly said that "the taste of the pudding is in the eating". So, it wouldn't be enough to just read this piece, you need to schedule a vacation to Erin-Ijesha waterfalls. I tell you, it's indeed a sight to behold.
Ikogosi Warm Springs Resort In Ekiti State

Located in a small city of Ikogosi in Ekiti State Nigeria, this beautiful resort is a place to be.
Agbokim Waterfalls In Cross River State
Agbokim waterfalls is actually on the Cross River, where it descends in terraces through the tropical rainforest.
It is not far from Nigeria-Cameron Border. The fall is surrounded by lush greenery, valleys and steep hills which are enveloped in a rainbow-like aura. Its freshness is captivating and has an alluring serenity.
Olumo Rock In Abeokuta, Ogun State, Nigeria
Located in Abeokuta, historic Olumo rock use to be a protective edge for the indigenes of those days.
It has been modernized with elevator, eateries, and many more
Other Tourist Attraction In Nigeria
Lagos National Theatre
Takwa Bay Beach Lagos
Zuma Rock – Abuja- Said to have a human face