Nollywood
Top 10 Nigerian Nollywood Cinema Movies That Broke Box Office Records Last Year
Top 10 Nollywood Movies Of 2018: Nigerian Cinema Movies That Broke The Box Office Records Last Year
2018 was a successful year for many Nollywood actors and actresses. Many of them had a very successful year with several top-grossing movie productions and features, while a host of others had a year to forget. In this article, we will be looking at the top 10 Nollywood movies in 2018.
With the recent buzz and fanfare surrounding Genevieve's Lionheart, the Nigerian movie scene has, without, gained significant global prominence. And this is expected to enhance the viewership of Nollywood movies this year (2019).
However, while Lionheart is arguably the movie of the year, a host of other Nigerian movies had equal or even better story lines, thrills and excitement. Let us take a look at some of these movies.
Top 10 Nollywood Movies 2018
Lionheart
Lionheart is an ingenious production of Nigerian movie goddess, Genevieve Nnaji. The movie was released some time in September last year (2018l. And it was subsequently acquired by Netflix, an American movie-streaming giant.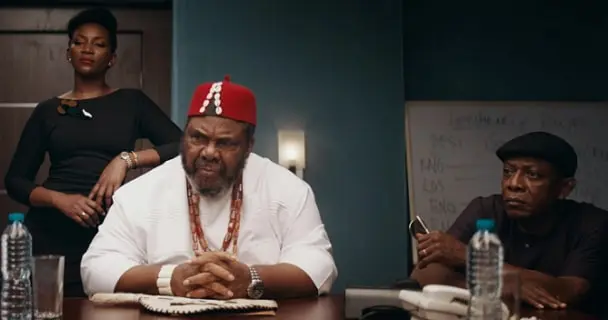 The movie featured two top Nigerian music stars, in person of Peter Okoye (Mr.P) and Phyno. Others Nollywood stars on feature include Genevieve (the movie director), Pete Edochie, Nkem Owoh, Kanayo O. Kanayo, Onyeka Onwenu and more.
Lionheart tells the story of Adaeze (the lead character – Genevieve Nnaji), who had to put up with the excesses of her uncle (Godswill), while, at the same time, striving to effectively manage her father's business.
New Money
New Money is another top grossing Nollywood movie in 2018. The movie  was released in March, 2018 by Inkblot Productions, and it was directed by Tope Oshin Ogun.
On cast are some of the most prominent names in the Nigerian movie industry, including Kate Henshaw, Jemima Osunde, Dakore Akande, Kalu Ikweagu, Folarin Falana (Falz), Wale Ojo, Osas Ighodaro, Wofai Fada and more.
The lead character in the movie – Toun was adopted by Jemima Osunde. Toun is a young lady who inherited his father's wealth and finds herself in control of a multi-billion Naira empire. The thrills that followed are something you surely wouldn't want to miss.
King of Boys
King of Boys rocked the Nigerian movie scene upon its release on October 20, 2018. It is a "Politics-themed" movie, which was written and directed by popular movie producer Kemi Adetiba.
The movie's cast include two popular Nigerian musicians, in person of Reminiscence, who adopted the character – "Makanaki", and illBliss, who took up the role of "Odogwu Malay". The lead characters in the movie were played by Sola Sobowale (Eniola Salami) and Adesua Etomi-Wellington (Kemi Salami).
Other Nollywood stars on feature include Jide Kosoko (Alhaji Salami), Osas Ighodaro (Sade Bello), Akin Lewis (Aare Akinwande) and more.
According to recent estimates, King of Boys is the 5th highest grossing Nollywood movie, with a gross revenue of over 200,000,000 million Naira.
If you are a fan of Nollywood and you are yet to see this movie, we recommend you do so at your earliest convenience. You won't regret it!
Mummy Dearest: The Wedding
"The Wedding" is one of the top Nollywood movies that hit the market in 2018. It was produced & directed by Willis Ikedum and  released on March 9, 2018.
Prominent Nollywood names on cast include Uti Nwachukwu, Daniel K. Daniel, Liz Benson-Ameye, Mary Lazarus and more.
Mummy Dearest: The Wedding illustrates the life of a man, Chijioke, who was appointed to head his company's project in his home town of Port Harcourt. This motivated him to propose to his girlfriend – Boma. Their union, however, was not blessed by Chijioke's mother – Rose.
The movie is filled with thrills, scorns and romance. It is one you would definitely want to see.
Royal Hibiscus Hotel
Royal Hibiscus Hotel is arguably one of the most talked about movies in 2018, basically because of its dual-styled theme and star-packed cast. The movie was directed by Ishaka Bello, and produced by Temidayo Abudu.
Royal Hibiscus Hotel is a romance-themed comedy movie, featuring the UK-born Zainab Balogun as the lead character (Open). Other prominent names on the cast include Joke Silva, Olu Jacobs, Kenneth Okolie, Jide Kosoko, Toni Tones, Kemi Lala Akindoju and more.
The movie illustrates the life of a young lady, Ope, who returned to Nigeria from the UK and was caught between fulfilling the needs of his father to sell off the family hotel and his mum who wants her to get married.
The movie took a lot of twists and turns, which involve romance and deception.
Black Rose
Black Rose is one of the most intriguing Nollywood movies in 2018. The movie was released in June 2018. And it was directed and produced by Okechukwu Oku.
The movie's cast include Ebele Okaro, Swanky J.K.A, Blossom Chukujekwu, Lilian Echelon, and Betty Bellor.
Black Rose spells out the life of Rose, a virtuous lady, who fell in love with a guy named Desmond. Their love story, however, didn't turn out well for Rose.
The concluding part of the story is quite captivating, and you might want to check it out.
Alexandra
"Alexandra" is a Nollywood/Hollywood movie that illustrates the life of Africans living overseas. The movie was directed by Robert Peters and produced by Freda Steffl. It first debuted in the US in April before hitting the Nigerian market about a month later in May.
On cast are top movie stars like Vivica Fox, Joseph Benjamin, Rob Hays, Ada Ameh, and other.
The movie portrays the life of a young, beautiful Nigerian lady who met an American man online and instantly fell in love with him. She later moved to the US to be with her American lover and that is when everything started going wrong for her.
Does she survive? How did the love story end? Check out the movie for answers.
Sergeant Tutu
"Sergeant Tutu" is a 2018 Nollywood classic, which illustrates the travails of a Nigerian Police sergeant, who was caught between carrying out his duties with diligence, while, at the same, answering to a corrupt boss.
The movie was released on January 26, 2018, by Royal Wall Studio. The action-packed comedy movie features popular comedian – Funnybone (Stanley Chibunna), who adopted the lead role of Sergeant Tutu. Also on cast is Uzor Arukwe, who took up the role of a crooked Inspector Sam, Sergeant Tutu's boss.
Date Night
Date Night is a another Nollywood classic with an intriguing storyline. It was directed by Daniel Orlahi, and produced by Chidiogo Enwegbara. The movie was released in April, 2018.
The suspense-filled thriller features the likes of Adesua Etomi-Wellington and Deyemi Okanlawon as the lead actress and lead actor respectively. Others include Okechi Peters and Anwuri Ijenebe.
Merry Men: The Real Yoruba Demons
"Merry Men" was produced by popular comedian – AY Makun. The movie was released on September 28, 2018.
The movie illustrates the flashy lifestyle of rich, young and good-looking bachelors, who reside in the Nigerian capital city of Abuja. They cruise around town in the latest rides and command ladies attention as they like.
Merry Men: The Real Yoruba Demons' lead actors include Falz (Remi Martins), Naz Okigbo (Jim Iyke), Amaju (AY Makun) and Ayo (Ramsey Nouah).
This movie is currently the 4th highest grossing Nigerian movie ever, and it was the highest grossing Nollywood movie in 2018. The movie grossed about 230 million Naira only few months after its release.
There you have it!
Which of these movies is your favourite?.