Crime News
Unemployed Graduate Commits Suicide In Osogbo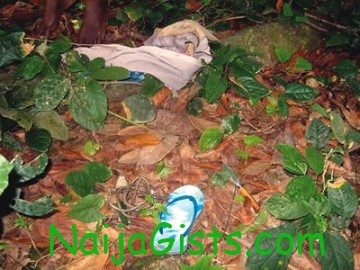 Suicide scene
May 21, 2012 – Man, 27 Commits Suicide In Osogbo, Osun State
Muili Awolumate, 27 is a National Diploma graduate from Osun State Polytechnic in Iree.
Muili hanged himself at the scene shown above in Ifon area of Osun state.
According to a report we obtained from Punch Newspaper, his corpse was found hanging on a tree with a  belt believed to be his.
A knife and a wire were discovered from the tragedy scene.
The Likely Cause Of Muili Awolumate's Suicide
The Head, Disaster Management, Nigeria Security Civil  Defence Corps, Mr. Olaniyi Babalola, said the remains of Awolumate had  been buried on Saturday in line with Islamic rites.
Investigation showed that the deceased, who graduated  three years ago, was unemployed at the time of his death.
This is sad!