Crime News
Woman Arrested For Killing Boyfriend In Bariga Lagos; Allegedly Hired Thugs To Beat Him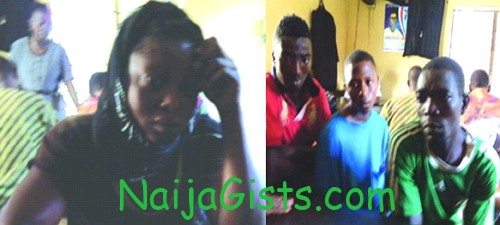 Dec 11, 2012 – Woman Arrested For Killing Boyfriend In Bariga Lagos; Allegedly Hired Thugs To Beat Him
A 22-year old woman, Mrs. Tawa Rawan, has landed in big trouble. That was after she sent thugs to beat up her secret lover, Akeem Ganiyu, 25, at their Bariga area, Lagos State, Southwest Nigeria, over a disagreement.
The thugs misfired and instead of beating up Ganiyu, as directed by Rawan, they ended up killing him after inflicting several machete cuts on his body. She was arrested by the police for her alleged involvement in the murder.
The police also arrested her accomplices, identified as Joshua Damilola, 27, Akintude Sodiq, 25 and 17-year old Ismaila Riliwan. The fourth accomplice, Abiodun Adeleke, is on the run.
The incident happened at the victim's house at 91, Arobadele Street, Bariga Lagos.
Narrating the incident, Rawan, mother of two kids, said she had a quarrel with the deceased and he slapped her and took away the money she made from bread sales.
According to her, she contacted those men to help her recover her money and to avenge the assault on her and not to kill Ganiyu. She said she was still shocked that he was killed in the process.
On her relationship with the late Ganiyu, she said he was her lover and that she is from Oyo State and married to another man with kids.
We gathered that while she was still with her husband, she was also dating other men, including Ganiyu secretly.
On the day of the incident, she said that the late Ganiyu assaulted her and since she could not overpower him, she went and brought the suspects who eventually murdered him.
According to her, she actually sent those men to harrass and beat Ganiyu up and not to kill him.
"I did not ask them to kill him, only to harass and beat him. I later learnt that they killed him with a machete," she said.
One of the suspects, Damilola, told P.M.NEWS that they did not intend to kill him, but used the machete after he attacked them with bottle.
"We went to ask him his problem with Rawan. Instead of anwering us, he snatched a broken bottle and stabbed me," he stated.
He said he went to the bread factory and brought a machete and inflicted injury that resulted in Ganiyu's death.
He also described Rawan as one of his customers at the bakery.
"I am at a loss on what to do and I don't know how I am going to get out of this," he cried at the station.
Another suspect, Sodiq, confessed that Rawan was also her lover but that he did not take part in the fighting.
When P.M.NEWS visited the victim's residence in Bariga, the late Ganiyu's sister expressed shock over the death of his brother and said that she had left everything in the hands of God.
A witness told P.M.NEWS that the late Ganiyu sustained several injuries on his body following the machete attack on him, adding that he died because he lost too much blood.
The body has been deposited at the Gbagada General Hospital for autopsy.
At the SCID, where the matter was transferred, P.M.NEWS gathered that the matter was being investigated by the same officer who investigated a murder case against a Divisional Police Officer, DPO, in Lagos.
Police sources also told P.M.NEWS that the suspects would soon be charged to court for conspiracy and murder.
Ganiyu's sister, Nafisat Ismail, who sells bread at his 91, Arobadade residence, demanded for the release of her brother's corpse so that he could be given a decent burial like a true Muslim.
She said their aged parents who are farmers in Iseyin, Oyo State, southwest Nigeria, were in support of her decision because as a Muslim, Akeem's burial should not be unnecessarily delayed.(source)