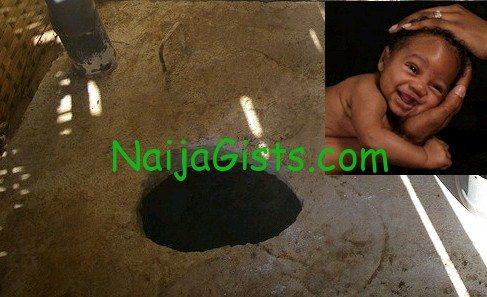 August 8, 2012 – Woman Delivers Baby In Pit Toilet
A pregnant woman in her late 20's identified as Chindwe Amoloku got the shock of her life on Sunday August 5, 2012 after she delivered her baby in a pit toilet (latrine).
This happened at Umusan Ogbe in Kwale, Delta State Nigeria.
Mrs Amoloku obviously had no clue what her baby due date was.
On a visit to a pit toilet one evening, she fell into labour.
With no one around to help her, she delivered the baby into the pit toilet.
Her yell for help attracted neighbours who came to rescue the baby.
" We used a stick to push the baby into a rubber bucket tied with a rope in order to drag it out of the pit," an eyewitness, Sunday Uzor, said.
She was quickly rushed to a traditional birth clinic where a nurse attended to her.
"The woman said she was pressed and went to the toilet but when she pressed, the baby came out and fell into the latrine, while the placenta slipped into her stomach."-said Sunday Uzor, a witness.
Thank God for people who rescued this baby.