Crime News
Woman Locks Housemaid Inside Toilet For Refusing To Follow Her To Church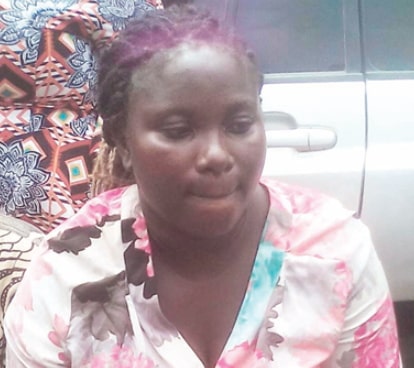 Woman Locks Housemaid Inside Toilet At Baruwa Estate Lagos For Refusing To Go To Church
Mabel Prince, a 35-year-old mother of two has been arrested by police for allegedly locking her housemaid inside a toilet at the Baruwa Estate, Lagos.

Prince was said to have locked the girl inside the toilet and headed for church.

The 14-year-old housemaid was rescued by the Divisional Police Officer (DPO) in charge of Ipaja Police Station. It was learnt that the DPO had to break the door before rescuing the girl.
Neighbours said Prince was fond of locking the housemaid in the toilet whenever she was going out.

The state Commissioner of Police, Imohimi Edgal, who paraded the suspect yesterday at the police headquarters, disclosed that police went after the woman, when she once again on Sunday locked the girl inside the toilet as usual and went to church.
He said:
"Based on the complaints, the DPO of Ipaja Police Station visited the house at Baruwa Estate, forced the door open and rescued the girl. During interrogation, the victim told me that since she had been living with her madam, she had been subjected to different forms of maltreatment."
Edgal said that on closer examination of the maid, it was discovered that wounds of various forms were all over her body. He called on parents to be vigilant and careful in handing over their children to other people.
Prince, who spoke with our correspondent, said:
"My action towards the girl was in good faith. On the fateful day of the incident when we woke up, I asked her to get prepared so that we could go to church earlier. I didn't know what she went into the toilet to do. After waiting for long, I went into the toilet to check and saw her not doing anything relevant. Out of annoyance, I spanked her for trying to avoid going to church.

"In order to punish her for her action, I locked her inside the toilet and went to church. It was when I returned from church that I was told that my neighbour, Abigail, had reported to the mater to policemen at Ipaja Police Station. I was thereafter arrested and brought to the command for questioning."
[New Telegraph]