Crime News
Yahoo Plus Boys Who Killed Virgin For Rituals To Boost Yahoo Scam In Abraka Delta State Arrested (PHOTOS)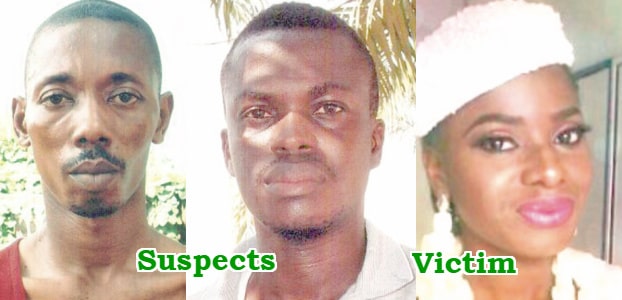 Yahoo Plus Boys Who Killed Virgin For Rituals To Boost Yahoo Scam In Abraka Delta State Arrested (PHOTOS)
By Ngozi Uwujare, Sunday Sun
Residents of Abraka in Ethiope East LGA of Delta State were horrified in the past weeks by the gruesome murder of a 23-year-old virgin. The barbaric act, which landed six suspects in police net, was perpetrated for rituals to boost yahoo scam.
The suspects during interrogation by Delta State Police Command gave explicit detail of the brutish slaying of their victim and the subsequent desecration of her body that they abandoned in the bush.
The victim, Elizino Joshualia Ogege, a 300 Level student of Delta State University Abraka was killed on November 13, 2018. After shaving her private part, the killers jointly participated in the mutilation of her body.
The prime suspects included Macaulay Desmond, 32, a self-professed Yahoo boy; the gang leader, Emudiaga Emese, 34; Onoriode Enaika, 23, a security staff of Delta State University and a 63-year-old native doctor called Robbin Ojekojo.
How it happened
According to confessions by the suspects, the grim episode started when the deceased who was in need of accommodation met Onoriode Enaika a.k.a. Onose, a security man on the campus. Enaika had promised to give her accommodation and told the deceased to come around on November 13 by 5 pm to the Old Staff Quarters section of the campus where he would hand over the apartment to her.
In the meantime, he had arranged her abduction with his gang. As soon as the unwary victim arrived at the Old Staff Quarters, she was overpowered. Raid, an inflammatory insecticide, was sprayed on her face, leading to her becoming unconscious. The gang later bundled her into their Toyota Corolla car and drove away into the bush.
Their arrest
Unknown to her abductors, their victim had already informed a family member about her scheduled meeting with a certain security man on campus who was helping her with her accommodation issue.
After she went missing, the family had reported at the Abraka Police Station.
Four days later, on November 17, the primary suspect, Onoriode Enaika was arrested. From him was recovered the phone of the deceased. Subsequently, he led detectives to the bush in Abraka where the remains of the deceased were recovered and deposited at Model Mortuary Hospital at Obiaruku. Save for the native doctor who lived in Warri, the remaining five suspects lived in Umegbe Community in Abraka.
From their self-incriminating confessions, the murder on November 13 was not their first. By their admission, they had abducted five other victims since 2017 when they started the business. All their victims were students of the Polytechnic Oghara and Delta State University Abraka, all of them kidnapped and killed for money rituals.
Tales by the suspects
The suspect, Desmond Macaulay, attended High Standard Primary School, Benin but completed his education at Uhroyka Secondary School, Abraka in 2009.
"I am a street and yahoo plus boy," he told Saturday Sun. "We have killed a total of five students who are students of The Polytechnic, Oghara and Delta State University, Abraka," he confessed. "We took them to the bush and removed their private parts for money rituals."
Macaulay gave a detailed account of their grisly act: "On November 13, 2018, Onoriode called us that he had found a student we can use for money rituals. He asked us to meet him at the Old Staff Quarters in Delta State University Campus. We brought a Toyota Corolla car and a can of Raid insecticide that we sprayed on her face. As soon as she was unconscious, we moved her inside the car and took her to the bush.
"We tied her to a tree for two hours. Then Emudiaga (Emese) removed her two eyes. I removed her heart while Onoriode (Enaika) removed her two breasts. After, that Emese and I took the private part to Alegbor in Warri and handed it over to our native doctor, Robbin Ojekojo whom we have been patronizing for three years. He used to give us powder that we use to collect money from the clients we deal with in foreign countries."
He said: "We collected dollars and euros from the foreigners and we often give our native doctor a share. We have given him at various times, the sum of N1.2 million, two hundred euros and N200, 000."
Macaulay was arrested in Abraka on November 17.
Onoriode Enaika, the suspect who set the scheme in motion was a security staff at Delta State University, Abraka, employed six months ago on a salary of N20, 000.
Had the university conducted a thorough background check, Enaika wouldn't have been shortlisted let alone recruited as staff. He was arrested for armed robbery in 2012, charged to Isiokolo High Court, remanded in Sapele Prison and released in 2013. He claimed to be "one of the Pastors of Zion Ministries at Obiaruku. I do deliverance and prayer in the church."
He gave further background to the barbarity of November 13.
"Our leader, Emudiaga (Emese) told me he needed a virgin for money ritual. I came across the deceased who needed accommodation. I connived with my supervisor, Uche Nwosisi, and he moved me from my regular beat at New Staff Quarters patrol. He posted me to the Old Staff Quarters to enable me to carry out the act".
After fine-tuning the plan with his gang members, he lured the student to the Old Staff Quarters for "her accommodation."
The victim was kidnapped as soon as she arrived there, but "I remained on duty till the closing hour, before I went to join them in the bush."
By the time he arrived there, he found her "tied to a tree" and they spent the next one hour dismembering her. At the end of the grisly act, "Emudiaga, removed the student's SIM card and gave me her phone," he claimed. The mobile phone was recovered from him when detectives arrested him on November 17.
After his arrest, Enaika took the detectives to the bush in Abraka to recover the mutilated body. What followed next was the arrest of five others accomplishes in the crime.
Recalling his shares of past killings to be N500,000; N50, 000, and N100, 000 respectively, Enaika stated: "I give out my ritual money as offerings every Sunday in my church."
The third suspect, Uche Nwosisi who was implicated in the crime had been a security staff of the university since May 1, 2010.
His account: "I am a supervisor responsible for posting security personnel to duty. I knew Onoriode Enaika six months ago when he was employed. He requested that I post him out of the New Staff Quarters patrol to the Old Staff Quarters. I did just that. Four days later, he was absent from duty and when I reached him he told me that Police were looking for him."
That was not the first time Nwosisi worked with the gang as he conceded that Enaika used to give him N30, 000 after such "deal".
The fourth suspect is the man at the centre of the sinister incident, 63-year-old Robin Ojekojo who professed to be both a farmer and a practising native doctor. "I have two wives and 44 children and I know four members of the gang," he affirmed.
He gave an explanation of how they use human parts for black magic: "They came to my shrine and introduced themselves as Yahoo boys. They had brought several human parts to my shrine. The private parts are burnt and turned into powder that is used as charm to bewitch the clients they speak to in America and Europe."
He filled in the gaps in the dark narrative of the killing of Elizino Joshualia Ogege.
"I was aware of the plan," he began. "Their leader, Emese, called to inform me they were coming with private parts. On November 14, they came in the night to my shrine at Alegbor. They brought the private parts, which I collected, together with two breasts, two eyes and one heart. I burnt the private parts into powder. I told them to come back and collect the powder. Sometimes, I would wait for as long as nine days without seeing them. But I didn't see them until police came to arrest me on November 19."
Ojekojo continued: "After I visited Desmond Macaulay and saw the mansion he built for his mother in Abraka, I increased my service fee. There was a time I collected N130, 000 from them. I also collected dollars and euros from them."
He admitted to being the provider of made-with-human-parts-charms for Yahoo boys operating in the Abraka-Asaba axis.
"I regret everything that has happened. It's a big lesson for me. I should have faced my farming rather than involving myself in the practice of money rituals medicine," he lamented.
Odiri Emese, the youngest of the suspects, is a 16-year-old SS2 student of Uroka Secondary School. He was involved because he was the brother of Mudiaga Emese, the leader of the gang.
"I only acted on instruction," he defended. "When a call came into the (student's) SIM card, my brother told me to pick the call and act like the owner, which I did. I asked the caller whether she was ready to bring the money. After the call, my brother then took the phone away." Detectives arrested him at school on November 19.
The family's perspective
The victim's brother, God-Do-Well Ogege, gave Saturday Sun further background about the deceased. Elizino Joshualia Ogege, an Isoko, attended Trivis Primary School and Army Day Secondary School before her admission in 2016 into Delta State University Abraka where she was studying Mass Communication. The 300-level undergraduate was on course to graduate as a first-class student.
Here is Ogege's recount of the Black Tuesday.
"My mother first raised the alarm when she called me that my sister Elizino had been kidnapped. I told her she went to church and would soon be back. My mother insisted that she had been abducted. Later, my elder sister also called to say that Elizino had been kidnapped. I joined them and we went to Abraka Police Station to report her missing. We went to her room on campus and broke the door, but found the room intact. Her classmates also joined us in her room. And we held a prayer for her."
The arrest of the security man and the recovery of her phone from him put paid to any hope they had of seeing her alive. According to him, the deceased had complained of threats from some girls on campus.
"They burgled her room severally. That prompted us to give her money to seek accommodation somewhere else within the campus. Before she set out to meet the security man, she sent a text message to our family friend, Mrs Otutu Zino, about her movement."
Zino, the last person who communicated with the victim added to the big picture: "Elizino lived in my house in her 100 level. Later she got accommodation on campus but she complained of being threatened by some girls. On November 13, she called to inform me that she was going to meet the security man who was helping her to get accommodation at the Old Staff Quarters. A few hours later, I called her, but she didn't pick the phone. Then I got a text message saying, "I have got the house, you can send the money." I called her phone number but to my surprise, it was a man's voice that said hello before the call was quickly terminated.
I got another text message around 2 pm, asking: Are you ready now to send the money?" At that point, I called her mother, urging her to call her daughter. I called her phone again and this time, I heard a female voice. I asked, where is Elizino? The voice replied: I am her sister. When I asked her to give the phone to Elizino, she quickly ended the call. A few minutes later, the phone went off. I suspected something was wrong."
Ogege, bemoaning the consequence of the tragedy on his widowed mother, wailed: "How can my mother cope with this predicament?".
Police probe further
Despite the arrest of the six suspects, the police have not closed the investigation. Commissioner of Police Muhammed Mustafa avowed that the command will leave no stone unturned towards ensuring that all those connected to the crime are arrested and prosecuted accordingly.