Gbenga Adebambo
You May Be Irreplaceable But You Are Not Indispensable! Be Humble Or You Will Stumble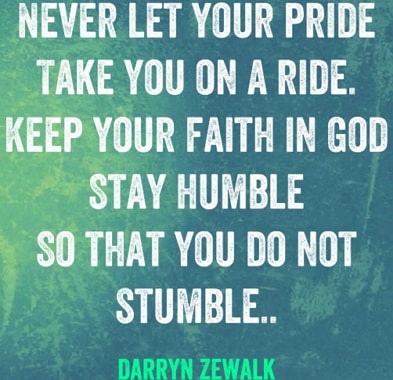 By Gbenga Adebambo
"Be HUMBLE or you will STUMBLE"-Rick Warren
The FIFA World Cup 2018 ended recently with France carrying the 'Cup' but Croatia carried the 'World'. Though France won the Cup but Croatia won the hearts of many. With a population of 4,163,698 (approximately 4 million) as of Monday, July 16, 2018, based on the latest United Nations estimates, they didn't look like a team that will cause any upset in Russia. Croatia was ranked by FIFA as the 20th on the FIFA national team ranking as at June 2018 far behind Germany (1st), Brazil (2nd), Belgium (3rd), Portugal (4th) and Argentina(5th).
One of the most amazing thing in life is how we often end up finding 'greatness' in the unlikeliest of places! A team not much studded with stars from a very small country that survived one of the most recent and damaging civil wars in Europe (The civil war called the Balkans war claimed 140,000 lives between 1991 and 2001 in Croatia) eventually became the nightmare of FIFA favourites and ultimately challenging France for the Cup at the final. The last time Croatia got to the semi-finals in a World Cup was in 1998, just after the war and independence!
The object of my write-up is not actually on Croatia, but one of the Croatian players that missed out on all the fun and glory that Croatia attained at the world cup fiesta- Nikola Kalinić! Nikola Kalinić is a Croatian professional footballer who plays as a striker for Italian club Milan, on loan from Fiorentina, and for the Croatia national team.
Croatia came to this World Cup with only two natural strikers. Mario Mandzukic, the guy who scored the winner in the match against England. The other was Nikola Kalinic,he was on the bench for Croatia's first game against Nigeria. With five minutes to end that game, the coach instructed him to dress up and replace another player.
Kalinic angrily refused to play, in protest of being left on the bench. He saw himself a top player, and wouldn't come on for just five minutes. The coach turned to another player (Marko Pjaca) for the substitution. After the match, Kalinic refused to apologize, despite appeals from other coaching staff. The coach then sacked him from the team, and sent him home from Russia.
Kalinic flew for holidays, and even posted pictures of himself enjoying elsewhere. After all, he seems to imagine, Croatia won't go anywhere in the tournament. Someone once defined EGO as Edging God Out! And that is what EGO does; it will always edge you out in life and reduce you to nothing! Kalinic wrongly believed that Croatia won't go far without him. But without him, the team managed to win their matches. After Kalinic was sent home, Croatia went on to win their group matches in resounding style, beating Argentina 3-0 and Iceland 2-1 to top the group with nine points.
They have also beaten Denmark, Russia and England on their way to the World Cup final with France. Croatia has achieved their greatest football achievement in history, reaching the World Cup final. The remaining 22 players are already national heroes even before the finals. Their names will be forever inscribed in the hearts of generations to come. Kalinic should have been part of this heroic team but missed out! All because of minutes of anger, pride and bloated ego. One great lesson to learn from the cool headed Croatian coach (Zlatko Dalic) is that sometimes you may need to cut off toxic people to reach the peak in life!
His decision to place his ego over the country's needs has severely backfired as Croatia reached the World Cup final and proved that it is better to completely eliminate toxicity from the squad. Back in Croatia, Nikola Kalinic has become a laughing stock, object of ridicule and subject of derision! Fans from all countries took to Twitter to mock the player as he is now forced to watch his country battle for their first World Cup from home. One Twitter user warned his followers not to be like Kalinic. A man that was once his ardent fan wrote on twitter: "I want you to meet Nikola Kalinic. He came to the World Cup as part of Croatia's squad. He's a talented striker. He reportedly refused to come in as a sub in the group stage win over Nigeria. He was then sent home as a result. Don't be like Nikola Kalinic." He may have regretted now. He may have realized his folly, but it is already too late! These stories about life are quite familiar to us, but do we really learn lessons from them? As they profoundly apply to all spheres of life?
Learn to cut away pride. Learn to control anger and deflate EGO and ultimately, learn to say 'sorry'. God resist the proud but give grace to the humble! Years of sweat and dedication can all be shattered by moments of ANGER and PRIDE.  Never trivialize platforms that you've been given to showcase yourself. I have attended programmes where I was previously given two hours to talk but ended up being reduced to ten minutes because of the presence of seemingly more important speakers! I didn't complain, I took the ten minutes and used it fantastically well. By the time I left the podium, my own applause reverberated the more, and people started coming over to me after the programme to book me up for speaking engagements! Steve Martin once said, "Be so good that they can't ignore you."
One of the philosophies that has guided my life over the years is believing that people will always make it with or without me and therefore I always see it as a privilege to always be part of people's success stories. Whenever people reach out to me to be their mentor, I count it as a privilege not for them but for me to be part of their success stories. So when people appreciate me for adding value to their life, I also appreciate them for giving me the privilege!
You may be good, skillfull, intelligent and much sought after but never forget that you are only irreplaceable; you are not indispensable. Steven Furtick said, "Gratitude begins where my sense of entitlement ends." Be grateful for the opportunities that life throws at you and stop going around with the air of entitlement. It is only a great fool that will not be grateful! Be grateful for every opportunity that you are given and never take things for granted. An attitude of ingratitude can literally block love, blessings, and destiny from finding you. Don't be the reason you don't succeed! DON'T BE A KALINIC!!!
QUOTE OF THE WEEK: "A fool is someone that is full of himself"-Gbenga Adebambo