Crime News
2 Brothers Arrested For Theft By Vigilante Group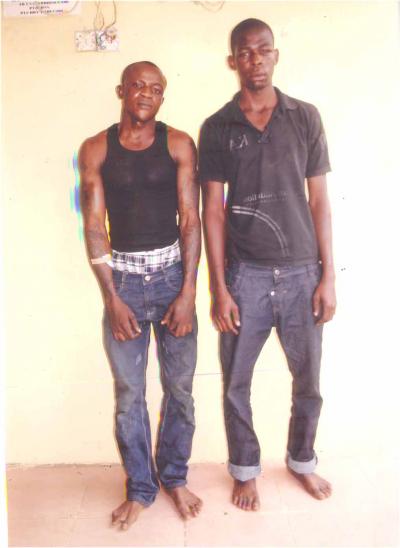 Obinna  and Francis Nwachukwu
Nov 8, 2011 – 2 Brothers Arrested For Theft By Vigilante Group
2 brothers who were arrested for theft, Obinna  and Francis Nwachukwu, have indicted a police officer, simple identified as Matthew,  attached to the Onipan police station, as an accomplice in the theft of cables belonging to the Power Holding Company of Nigeria (PHCN) and the Nigeria Telecommunications Limited in the Somolu area
of the state.
The suspects were arrested by a vigilante group at Petit Dahoh street on October 28, and confessed at the Alade Police Station that they stole cables belonging to the PHCN and handed them over to Matthew, to sell for them.
A resident of the area, who simply identified himself as Tunji , said at about 3a.m.  a vigilante group operating on Petit Dahoh Street caught  the two suspects vandalising  a power transformer in the neighbourhood.
The suspects were taken to the Alade Police Station, where the case took a dramatic turn as one of the suspects fell to the floor, convulsing.
Narrating what happened at the police station, an eyewitness said: "Suddenly, Obinna started jerking uncontrollably as if he was having epilepsy. He was rushed to a nearby hospital, where the doctor on duty said he was either feigning illness or truly suffering from epilepsy.
"To everyone's surprise, the Divisional Crime Officer at the Alade Police Station detained the vigilante men, claiming that they must have assaulted Obinna and brought on the epilepsy. They were made to pay Obinna's hospital bills before they were released."
It was gathered that the vigilante group paid more than N20,000 to treat the suspect at the Shomolu General hospital.
Reacting to the incident, residents called on the commissioner of police in the state, Yakubu Alkali to investigate the case.
"Obinna and Francis were allowed to go scot-free. The vigilante members, who assisted in their arrest, were instead penalised. We thought that they would have investigated Obinna's claim that Matthew was a police officer.
"The DCO claimed that he let Obinna go because he was epileptic.  Now, they have freed the suspects and they are not investigating thepoliceman that was indicted, instead they are torturing the people who
arrested these criminals, is that how things should be? Forcing vigilante to pay hospital bill is discouraging  them from catching criminals," Tunji said.
The Lagos State Police Public Relations Officer, Deputy Superintendentof Police, Samuel Jinadu, however said the allegation that the criminals were released was false. "That case has been transferred to the Special Anti Robbery Squad Ikeja for further investigation; the suspects have been taken there. The police is not trying to shield anyone," Jinadu said.(daily times)