Crime News
2 Men Who Bought Stolen Phones Of Bus Passengers Killed By Kidnappers Arrested By Police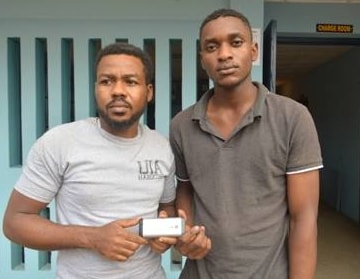 2 kidnap suspects have been arrested by police operatives. The suspects identified as 33-year-old Chinonso Maduagwu and 22-year-old Sebastian Eze Chinedu  were arrested by operatives of Anti – Kidnapping Unit of the command on 07/08/2018 at Obiakpor L.G.A. in Rivers State.
They were nabbed in connection with the kidnap/murder of two victims on their way to Port – Harcourt from Owerri.
The hoodlums attacked the victims, bus passengers at Umuagwo Ohaji/Egbema L.G.A in Imo state, where they shot dead the deceased victim and the other sustained gunshot injuries while seven (7) others were kidnapped to unknown destination after robbing them of their handsets and other personal effects.
Victim's phones were also recovered from the suspects.
The arrested suspects have made useful statements to the police confessing to know the perpetrators of the crime whom they claimed sold the victims phones to them.