Entertainment News
Is 2face Really Gay Or Bisexual? Nigerians React As Singer Drags 2Baba To The Mud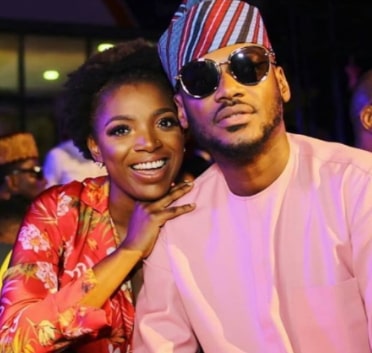 Is Tuface Really Gay Or Bisexual? Nigerians React As Singer Drags 2Baba To The Mud
Mixed reactions have trailed Blackface's claim that Nigerian Star Singer, 2face Idibia was gay.

According to Daily Post, Blackface in his newly released diss song titled 'War' targeted at 2face Idibia accused the music legend of being 'gay'

The defunct member of the Plantainshun Boiz group alleged that 2face engaged in same-sex intercourse as a sacrifice for his success.

He was quoted as saying, "Make I expose you for who you are, 201 know your story omo where I go start / 2Face since when them start to yansh you for back, that's why you no fit stand straight, that's what made you star."

The song has since been met with criticisms and diverse reactions from Nigerians online.

While some have accused Blackface of seeking cheap fame, others advised him to pick up his dead career from the dustbin.
Here are some comments gathered by DAILY POST from Twitter:
@UNCLE_AJALA, "Blackface is calling 2Baba gay, 2 Baba wey like woman and dey straight forward, Blackface, better pick up your dead career from dustbin."
@ukwuchisom, "Blackface saying 2baba is gay is the most ridiculous thing I've heard in my life."
@Bams_Jnr, "Blackface has gone to smoke igbo again, now he's calling 2face gay o. Our own 2baba that likes woman? that guy need a doctor."
@So_naughty12, "Of all the people in Nigeria to be accused of being gay you chose 2face?As in our own 2baba, abi is there a new 2face that he is talking about? Blackface this has turned to something else o. Just send me your account number let me send you something to chill with abeg."
@DimoXyz, "Blackface legit opened his mouth and said 2face is gay. lmao if he was a comedian he would have been a good one."
@iam_nickybrown, Blackface said 2face is gay, but 2face has battalion of children even the ones he doesn't know yet and they were all given birth to by a woman, so I don't understand what blackface is trying to say. "
@ife_luv12, "2face gay? I need to know black face' supplier and what's with that beat sounding like a song from 20yrs ago."
@zeuz_hades, "Everyone is shouting that #Blackface called 2baba gay in a diss track. That one no pain cos 2face so straight he makes me look gay. What is annoying me is the beat he jumped on, I mean in 2019 and blackface is still using same old beats?"
@Hrmkingaustin, "So black face said 2face is gay, could they have dated,and then 2baba cheated and dumped him? over 15years and all you could come up with is a diss track that everybody thinks is wack"
@Whatsappguru1, "Blackface Since how many years. Diss track with kpe du kpe du beat. Nigeria done pass that one, calling 2face gay? That father of many nations, Abi 2face use blackface pant take blow ni ?"
@ZobaTwits, "So Blackface just informed us that 2baba we all know that can't keep a clean sheet when it comes to women is gay? Okay even in this 21th Century you want us to bother about that?2face idibia with kids home and away, I guess guys are crushing on him and not Tuface going after em."
@osirmah, "2face maintained having kids with multiple women over d years n yet blacface still calls him Gay in 2019? This blackface is mad o."
@alabi_tosin, "Blackface is just too dunce. you want to accuse 2face of something , you did not even find something reasonable. How can you say 2 baba is a gay after how many baby mama's. Let him bring his sister to 2 face maybe he won't shift her womb."
Follow NaijaGists.com on Facebook and Twitter.