Crime News
8 Yahoo Boys Arrested Today At Forthright Estate Magboro Lagos..Exotic Cars, Phones & Laptops Recovered By EFCC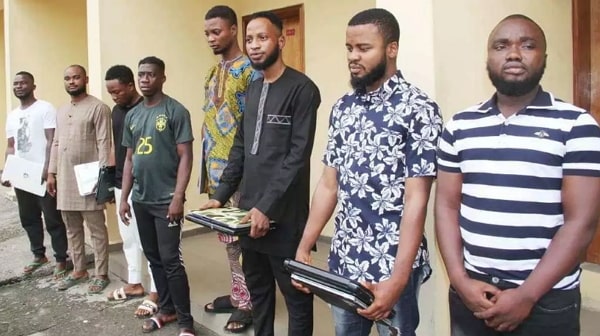 8 Yahoo Boys Arrested Today At Forthright Estate Magboro Lagos..Exotic Cars, Phones & Laptops Recovered By EFCC
Eight suspected internet fraudsters were today picked up at their mansion in Lagos.
According to the EFCC, the 8 internet fraudsters also called Yahoo boys were arrested today Tuesday the 21st of May 2019 at Forthright Estate in Magboro area of Lagos.
Several exotic cars, high end phones and laptops were recovered from the suspects identified as Abdulazeez Ismaila, Adesanmi Abiodun, Oluwaseyin Fagbemiro, Aina Oladipo, Felix Onyebuchi, Segun Amudah. Adesanmi Abiodun and Olasupo Emmanuel.
They were caught following a surveillance by the Economic and Financial Crimes Commission, EFCC, Lagos Zonal office.