General
Arrest Me If You Can – Buhari Tells Jonathan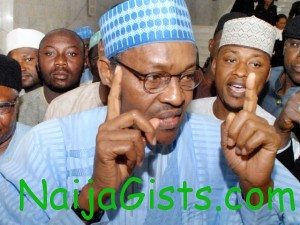 General Buhari
May 17, 2012 – Arrest Me If You Can – Buhari Tells Jonathan
Against the background of alleged threats to arrest him on account of his predictions of a bloody response to any rigging of the 2015 elections, erstwhile military Head of State General Muhammadu Buhari, yesterday, dared President Goodluck Jonathan to carry out the threat.
Buhari Responds To PDP's Threats
Responding to the condemnations from the Presidency and the Peoples Democratic Party, PDP to his assertion, Buhari said yesterday that only those now contemplating to rig the 2015 elections could have been afraid of the threat of a violent response.
While giving a robust defence of Buhari's pan-Nigeria spirit,  his party, the Congress for Progressive Change, CPC also chided President Jonathan for fixing his fellow Ijaws in prized national offices.
Support for Buhari also came yesterday from the opposition Action Congress of Nigeria, ACN which chided the administration for launching a personal attack on Buhari simply for giving a valid warning against election rigging.
The ACN said the attacks against Buhari were reflective of the determination of the ruling administration to use the instrument of power to return itself to power.
Buhari had stirred controversy while receiving a delegation of the CPC from Niger State on Monday.
Speaking in Hausa language while receiving a delegation of the CPC from Niger State, Buhari was quoted as referring to the Federal Government as the biggest Boko Haram. He was also quoted as saying: "God willing by 2015, something will happen. They either conduct a free and fair election or they go a very disgraceful way. If what happens in 2011 should again happen in 2015, by the grace of God, 'the dog and the baboon would all be soaked in blood.'
Special Adviser to the President on Media, Dr. Reuben Abati in the presidency's reaction said by his reference to the north in his speech, Buhari who is an elderstatesman has reduced himself to "a regional leader who speaks for only a part of Nigeria".
Denouncing Buhari's outbursts, the presidency and the PDP had described the former head of state as a serial election loser renowned for inciting his supporters to violence and a blood thirsty politician.
Alhaji Buba Galadima defends Buhari
But responding yesterday, Buhari speaking through his close political associate and national secretary of the CPC, Alhaji Buba Galadima dared the President to arrest him, saying that not even his master, General Olusegun Obasanjo dared to arrest him.
General Olusegun Obasanjo Cannot Arrest Buhari
He said: "Let them go and pick him as their mentors are now advising them to. If Obasanjo cannot arrest Buhari, I want Jonathan to do it if he can try it because they are hiring people all over the North to be talking for them because they can pay them money.
"They are picking on the General because it is him they are afraid of and because once you take away rigging, they are gone; but they have forgotten that their master, Obasanjo was the first to talk of do or die, do or die means blood, if you don't do what I want I will kill you, that is what he said.
"The issue is very simple, if you are not a thief why should you be afraid if they say whoever steals should be killed? That is why they are afraid."
Galadima said that Buhari was not the first to have noted the existence of three Boko Harams in the country.
"General Buhari said he was quoting Prof. Ango Abdullahi who said that there are three Boko Harams, the original one, the one that is now perpetrated by criminals that are now raiding homes and markets and government itself. Was it not Jonathan who said that there are Boko Harams in his government," Galadima asked yesterday.
He further gave a strong defence of General Buhari's nationalistic spirit saying that Buhari as a soldier fought civil wars that arose from election rigging in the Congo and in Nigeria.
"Are you saying that somebody of Buhari's stature cannot warn those in authority that there is no need for the country to go into this? Why are we mis-reading things? The man should be commended for having the courage to tell those in authrotiy that they should behave well."
He also dared the administration to publish the contents of the Lemu Panel inquiry on post election violence which he claimed exonerated Buhari of culpability and rather blamed the administration.
"Why are they afraid to publish a white paper because it indicted them as having been responsible for the election violence. I dare them if they are honest people and I dare PDP if they are honest people, let them conduct a free and fair election and let's see whether they will win one councillor."
We stand by what Buhari said — CPC
The CPC in a statement also flayed the Jonathan administration for perpetuating an ethnic agenda separate from what it said was the nationalistic thrust of Buhari while in power.
In the statement issued by the party's national publicity secretary, Engr. Rotimi Fashakin, the party said: "As Head of State, his Oil Minister was Professor Tam David-West, a Kalabari man in Rivers State. As a Leader, he created the ambience for his ministers to work unobtrusively and devoid of executive meddlesomeness. But what do we find with Dr Goodluck Jonathan? All the appointees as oil ministers in his two-year reign thus far as President of Nigeria have been Nigerians of Ijaw extraction, like himself!
"Second, on October 1, 2010, there was a bomb blast during the year's independence anniversary celebrations, with attendant deaths of many Nigerians. Without waiting for any preliminary report from the Security Agencies, Dr Goodluck Jonathan, as President, told a traumatized Nation, "it is not MEND!
"Third, so far as President of Nigeria, Dr Good-luck Jonathan has shown very generous affinity for Nigerians of Ijaw stock in terms of appointments and promotions in the Federal Public sector. There is a marked lopsidedness that smacks of clannishness and ethnocentrism by the President!
"On Corruption and sleazy tendency, the Jonathan administration transcends all others before it! Nigerians are still befuddled by the impeachable show of arbitrariness by the regime in expending N2.67Trillion on fuel subsidy instead of the appropriated N240Billion in the 2011 appropriation act. As expected, the regime has attempted all manner of subterfuge to give Executive cover for the indicted people in the scam.
ACN On Boko Haram
"In January 2012, Dr Good-luck Jonathan told a bewildered nation, still smarting from murderous Bombings, that his government has been infiltrated by Boko Haram. In February 2012, a serving PDP senator from Borno South (Mohammed Ali Ndume) was arrested for being a member of Boko Haram.
In March 2012, Ndume deposed to an affidavit before a Federal High Court wherein he stated that Vice-President Namadi Sambo was aware of his activities with Boko Haram. In April 2012, General Andrew Owoeye Azazi , the National Security Adviser, averred that there was indisputable proof that Boko Haram is PDP. As things stand, President  Jonathan is the national leader of PDP."
ACN denounces crude attacks on Buhari
The ACN also condemning the attacks on Buhari said the warnings by the former head of state was only directed against plans to rig the 2015 election.
The party also condemned the personal nature of the attack by the presidency which it claimed did not dignify the president.
In a statement issued in Osogbo, Osun State, by its National Publicity Secretary, Alhaji Lai Mohammed, the party said the statement for which Gen. Buhari is now being mercilessly savaged was nothing but a warning against those who may be planning to rig the 2015 general elections, hence should not have rankled anyone who believes in free, fair and transparent polls.
It said the viciousness of the seemingly coordinated attacks by the presidency and the PDP raise a lot of concern regarding their plans for the 2015 elections.
''We hold no brief for anyone. But it is true that if elections are rigged, as they have been so shamelessly and brazenly done by the PDP since 1999, naturally people will react, and in doing so it is impossible for anyone to predict how far things can go. This is what, in our opinion, Gen. Buhari warned against. If the presidency and the PDP have no intention to rig in 2015, why are they so worried about the consequences of such action?'' ACN queried.
The party said Buhari's warning was in order, considering that the 2011 general elections remain the most systematically-rigged polls in Nigeria's history, irrespective of the so-called endorsement by some visceral foreign election monitors.
"The 2011 elections also left Nigeria divided along ethnic and religious lines".
Since all of you are useless in solving the problem facing Nigeria, the best you can do is fight each other.