General
JAMB To Use EFCC In Curbing Exam Malpractices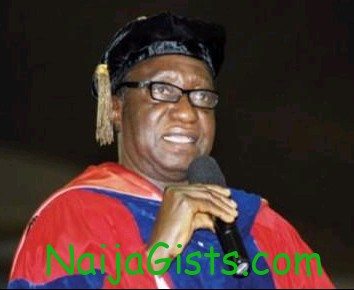 JAMB Registrar
May 17, 2012 – JAMB To Use EFCC In Curbing Exam Malpractices In Nigeria
JAMB Registrar, Prof. 'Dibu Ojerinde, yesterday urged the Economic and Financial Crimes Commission (EFCC) to assist in curbing examination malpractices in Nigeria. naijagists.com
He said JAMB would soon introduce e-testing as part of steps to check examination fraud.
Ojerinde ,who made the appeal in Abuja during a courtesy call on the EFCC chairman, Mr. Ibrahim Lamorde, said JAMB is worried about increasing examination malpractices.
He said in the last Unified Tertiary Matriculation Examination (UTME), two individuals, who designed bathroom slippers that accommodated handsets to receive answers from outside, were arrested.
The slippers, he said, were designed specially to cheat during the examinations.
A statement by the EFCC's Acting Head of Media and Publicity, Mr. Wilson Uwujaren, quoted Ojerinde as saying: "There is this particular case of a woman in Ikirun, Osun State . During the examination, a search was conducted on her and the scanner gave indication that there were foreign metal objects in her body.
"All entreaties to her to bring out what was on her failed until a woman supervisor had to take her to a closet and undress her only to discover that a handset was prepared just like a pad in her private part. It was that bad. If we had not used the scanner, we couldn't have detected it. Even at that, I am sure there were people that still went away with it.
"We realised that we in JAMB don't have this special Eagle Eye to detect some of these things. We have come to solicit for your assistance on how we can work together to exterminate this problem."
He said candidates would be allowed the option of paper/pencil examinations or e-testing.
Ojerinde added: "In that way, children will write their examination electronically and at the end, the candidate will submit and the scores will appear immediately and the candidate will go home with his/her scores; but the national standardisation will still take place."
He said the Board was perfecting the idea and working out modalities with the supervising Ministry and relevant agencies.
The EFCC Chairman expressed regrets that some parents have been aiding their wards to engage in examination fraud.
"It shows the level at which the value system has deteriorated," he said.
Lamorde said the Commission would always be available to handle any issue referred to it.
He said: "We would always intervene not only during examinations, we would also like to beam searchlight on personnel of JAMB to know how the questions get to the candidates."
The EFCC chairman also suggested that efforts should be made to de-emphasise paper qualification in Nigeria.
He said: "Even in the western world, there are people who have done wonderfully well without having a university or a polytechnic degree. These people have contributed meaningfully to the society."
In the entourage of JAMB's Registrar were Hamzat Balogun, Director of Accounts; Sulayman Y. Muhammad., Director, Corporate Services and M. S. Ibrahim, JAMB's Legal Adviser.