Entertainment News
Beyonce Praised For Using Chimamanda Adichie Feminism Quote & Honouring Fela @ Coachella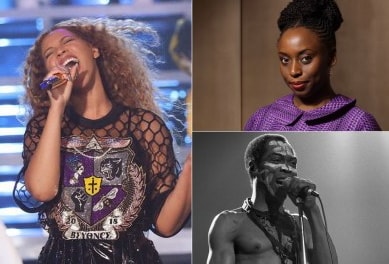 Beyonce Praised For Using Chimamanda Adichie Feminism Quote & Honouring Late Afro Beat Legend Fela Anikulapo Kuti For Coachella Performance
Nigerians on the social media have applauded the American music star, Beyonce for paying tribute to Afro beat legend, Fela Anikulapo Kuti and honouring Nigerian writer, Chimamanda Adichie.
Beyonce, who became the first black woman to headline Coachella on Saturday, did so with a two-hour performance and had her band perform a rendition of Fela's 1976 classic 'Zombie'.
Fela Kuti was a Nigerian musician and activist, who launched Afro-beat, which then fused American blues, jazz and funk with traditional Yoruba music.
Nigerians were excited that she decided to honour two Nigerians, alongside other black legends including Nina Simone and Malcolm X.
Nigerian singer, Emma Nyra wrote @emmanyra tweeted, "Beyonce just made me so proud to be who I am. Unapologetically black, female and talented. Our voice matters. She even paid tribute to Fela! I will forever be a fan."
@Blackdot_Mandy tweeted, "Beyonce just paid a tribute to Afroking and Afrobeat legend Fela Anikulapo Kuti during her Coachella performance. I stan Beyonce Knowles."
@Erhuwrites wrote, "Who else got chills when they heard Chimamanda's voice at the end of Beyonce's glorious performance at Coachella? I still have goose bumps."
@DrDendere tweeted, "Beyonce is now new level amazing. Chimamanda blasting out during her Coachella performance is life."
@Ganga_A wrote, "Within Beyonce's Coachella performance in the little bit where the band was going off, they play Fela Kuti's Zombie. This is why she is number one, a cultured queen and an unshakeable throne."
@KLCHII tweeted, "Beyonce really brought Fela to Coachella with that lil hook."
The 'irreplaceable' crooner also featured Chimamanda Adichie's speech 'We Should All Be Feminists', which was sampled on her song 'Flawless', at the end of her performance.
Adichie is a multi award winning writer and her second book 'Half of a Yellow Sun' won the Orange Prize.
Beyonce has been trending since after her performance for the groundbreaking routine, song selections and surprises, including bringing her defunct group 'Destiny Child' on stage.
She performed old classics of the group with former members Kelly Rowland and Michelle Williams; and her husband music power-weight Jay Z.
Meanwhile, Nigeria's Ayodeji Balogun aka Wizkid is billed to perform at Coachella next weekend on April 21.
The Coachella Valley Music and Arts Festival commonly referred to as Coachella or the Coachella Festival is an annual music and arts festival held at the Empire Polo Club in Indio, California, located in the Inland Empire's Coachella Valley in the Colorado Desert.
NAN