Crime News
Black Box Of Ethiopian Airlines Plane That Crashed On Sunday Recovered As Investigation Begins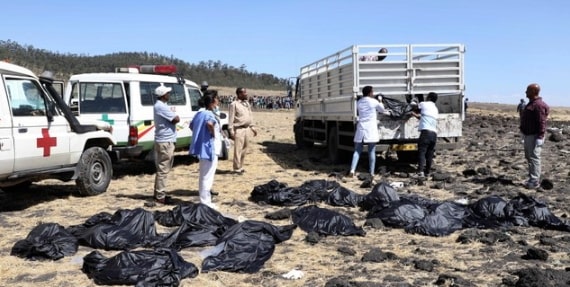 Ethiopian Airlines Recovers Black Box Of Crashed Plane As Cause Of Crash Investigation Begins
EA today that it has recovered the Digital Flight Data Recorder (DFDR) and Cockpit Voice Recorder (CVR) of its Boeing 737 – Max 8 aircraft crashed a few minutes after take off near the country's capital in Addis Ababa.

The airline said the flight recorders otherwise known as Black Boxes were recovered after a tedious search by the investigative team.

The recovery of the black boxes comes, just as Ethiopian Airlines led the pack of global carriers to suspend the commercial operations of all Boeing 737- Max 8 aircraft in its fleet.

Besides, Ethiopian Airlines, China Airlines has also suspended the commercial operations of the aircraft type.

Investigators are working on the black box data to ascertain the cause of the crash.

Ethiopian said in a statement signed by Biniyam Demssie, that it has continued monitoring the situation closely with all stakeholders and is providing all the necessary support to the families of the deceased in its temporarily established family assistance centers in Addis Ababa and Nairobi Airports.

"Although we don't yet know the cause of the accident, we had to decide to ground the particular fleet as extra safety precaution.

All 157 souls, including two erudite Nigerians, Prof. Pius Adesanmi and Amb. Abiodun Bashua, died in the crash on Sunday.

Boeing's 737 MAX is the newest version of a jet that has been a fixture of passenger travel for decades and the cash cow of the world's largest aircraft maker, competing against the Airbus SE's A320neo family of single-aisle jetliners.

The decades-old 737 family is considered one of the industry's most reliable aircraft.
Follow NaijaGists.com on Facebook and Twitter.