Crime News
Boy Bewitched By Ritualist Kill Mother For Money Ritual In Delta State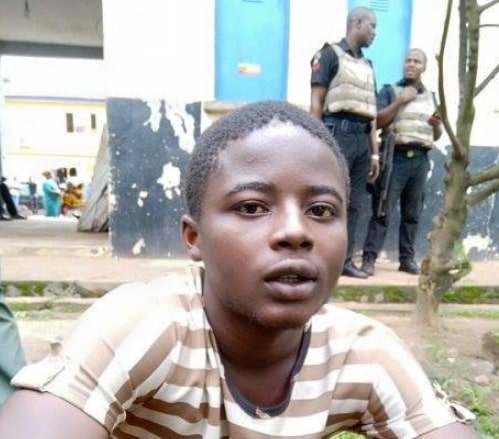 Samuel Akpobome Emobor,  an 18-year-old resident of Ikpoba Okha LGA of Delta state on Wednesday made startling revelations about how he hacked his mother to death and slept with her corpse for money rituals.

The indigene of Oghara in Ethiope West Local Government Area of Delta State carried out the act at a rented apartment at Ologbo community in Ikpoba-Okha Local Government Area where he and his mother lived before the ugly incident last week.

Emotor was paraded along with others at the state Police Command Headquarters in Benin.

The suspect said he was tempted to commit the act by a 'ritualist,' who he called One Love.

The ritualist, who is now on the run, according to Emobor, sells drugs within the community.

The drug seller turned ritualist had told the boy to kill his mother, cut off her fingers and ears respectively for which he was promised to be paid N50,000 cash.
His confession:
"I wanted to use my mother for ritual. I am 18 years old. My father is dead. It was one man called One Love that told me to use my mother for money ritual. He promised to give me N50,000 if I killed my mother and sleep with her. He said I should cut my mother's ears and fingers and bring them to him.

"I wanted to cut the ears and fingers before the people came in. I slept with my mother only once. I pressed my mother's neck to kill her while she was sleeping. One Love sells drugs. He put something inside the drink he gave me and he told me to go and kill my mother.

"The day I went to his (the drug dealer's) house with policemen, the man has run away. I hail from Oghara. I work in a pure water factory.
"I now feel very bad because I was beaten badly by people. I did what the ritualist told me."