Crime News
Bus Driver Who Hit LASTMA Officer And Fled To Ghana Dragged Back To Lagos By Boss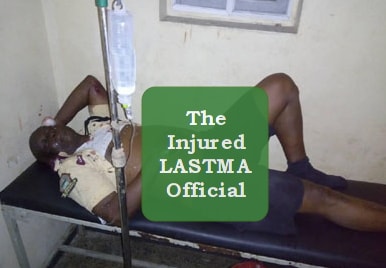 Pictured above is the LASTMA official knocked down by a truck driver at Igando area of Lagos on the 7th of August 2018.
The suspect, Abuchi Okpara was driving a commercial bus belonging to Johnson Ogbonnaya-owned  King Solomon Chariots Transportation when he was pulled over by the official of the Lagos State Traffic Management Authority, Mr Obafemi Ogunmeru for allegedly dropping passengers at an undesignated spot.
When the LASTMA official stopped him, Okpara refused to stop and knocked him down as he zoomed off from the location.
He fled to Accra Ghana immediately after the incident to evade arrest.
His no-nonsense boss who got wind of his location went to Ghana last week and dragged back to Lagos where he handed him over to police.
Okpara was charged to court on Monday and ordered remanded in Kirikiri prison.