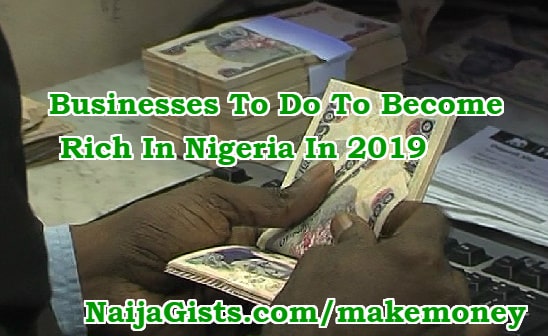 5 Businesses To Do To Become Rich In  Nigeria, Africa And All Around The World In 2019
In less than 3 weeks to go in 2018, can you boldly declare that you  have achieved your goals? probably not.
Well there is nothing anyone can do to do, the only thing we have control over is the moment.
Without much ado, let's explore some business ideas that has turned many into millionaires.
1. Businesses Inspired By God
The number one business idea source that has turned many into billionaires is divine.
A divine idea is what distinguishes a successful man from others.
Walking in divine direction will put you ahead of others and make you a wonder to your world.
Before you start thinking of the next business to do next year, seek the face of God first and follow his leadings.
If truly He is the one leading you, you can never go wrong.
Faith Tabernacle Ota, a sanctuary God led business Oyedepo to build is the largest in the world.
It was built inside Igbo Irunmole (Forest filled with demons).
At the just concluded Shiloh 2018, the cleric said when God led him to build Canaan land in the forbidden forest, it didn't make sense to the natural man but today he is a wonder to his world.
2. Sell Your Services On Fiverr
This platform is the most under-looked place to turn your skill into money.
Thousands all over the world are already benefiting from this platform. Some sellers are making as much as $80K per month on this platform.
Visit Fiverr to register and start selling your services today.
3. Blogging
This is one of the most competitive industry in the world, yet there are still some untapped aspect of blogging reserved for someone like you.
Several people are making millions online today in blogging. If you love to write, blogging is the business for you.
The only set back in blogging is marketing.
If you don't know marketing, you may not be able to make a dime from your blog but the moment you learn Search Engine Optimization, which is easy to master, you can be making really cool money from your blog. I highly recommend, BacklinkProfessor.com, a good blog for new webmasters to learn SEO.
If you don't know much about blogging, I'm just about done with a blogging ebook I started last year.
The book titled "How I *******Months" will get you started on the right path.
I planned to release it this year, but one of my writers dropped off the project due to personal reasons so I have to put the project off for some time but we are back to work now.
I plan to launch the Ebook in January 2019, God helping me.
Note: The eBook with online version will not be cheap. If you promise to follow all the instruction and step by step recommendations, you will do extremely well.
If you master the ebook from A to Z, you will start making money from your blog in no time.
All the tools, techniques and routine I used to take this blog to this stage will be revealed in the upcoming ebook. Stay tuned.
4. Vlogging
Vlogging simply means Video Blogging.
Do you know most vloggers are richer than the richest career experts and CEOs in the world.
This is made possible by the power of Google.
The richest vloggers out there are using YouTube to make their millions.
A friend of mine is writing a very good Step By Step Guide on how he became the richest vlogger in Nigeria in 2017.
He is now a large scale farmer who invested part of his vlogging income in farming.
In my personal opinion, I highly encourage  new bloggers to combine vlogging and blogging.
Note: If you don't want to get messed up, do not try news niche. It is over saturated unless if you want to start a full-blown media firm like Punch Nigeria, Vanguard NGR, The Nation, CNN and the like.
To become a successful blogger or vlogger, choose information niche.
Provide the information people are looking for and start smiling to the bank.
5. Farming
Whether you like it or not, farming has made more millionaires than any other profession in the world.
My lovely African youths, may be it is time to start taking farming seriously, the office job you are looking for will not make you rich.
You can become an employer of labour by going into farming.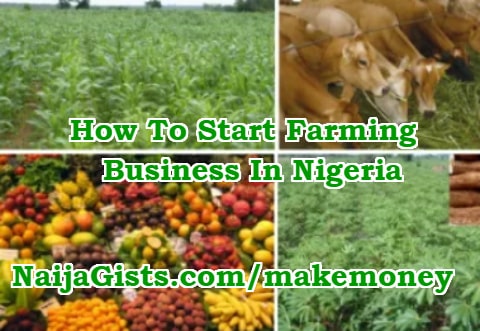 There are several aspects of farming you can look into.
According to WealthResult, Poultry Farming, Rice Farming, Plantain Farming, Cassava farming, Snail Farming, Maize Farming , Goat Farming, Beans Farming and Catfish Farming are the most lucrative types of farming to venture into in Africa.
Do you know you can start your own food production company when  you venture into fruit farming, poultry farming and vegetable farming?… That is a subject for another day.
How Can I Start A Business In Nigeria Without Capital
This is a very big issue that most Nigerian youths are facing .
Here is a list of organizations that give business grants and loan for business startups in Nigeria.
1. https://tonyelumelufoundation.org/programme/
2. https://youwinconnect.org.ng/
3. https://www.boi.ng/
4. https://www.grofin.com/
5. https://diamondbankbet6.com/
6. https://ayeonline.org/
7. https://lsetf.ng/
Here is the catch, don't allow them to steal your business ideas, according to online complaints, some folks claiming to give business grants do steal business ideas from poor Nigerians and implement it.
If I were you, I will be smart in my approach.
If you know you really have an idea that will generate big wealth, don't just table it to them like that.
I can't really tell you  how you are going to do this but God will give you wisdom.
Apply caution and watch out for red signals.
In conclusion friends, the year 2019 will be a great year for you , if you apply your heart to knowledge.
Leave the camp of time wasters in 2019 and align yourself with the wise.
Read as many books as possible to expand your mind.
Entertain yourself this upcoming year but limit the time you spend on entertainment and increase the time you spend on acquiring knowledge.
2019 will be your year of greatness.
May God empower you to achieve all your life-long desires.
Stay focused and see great things happen to you.
And if you ever need any life coach, feel free to consult with me via naijagistnews@gmail.com.