Entertainment News
Catholic Priest Kidnapped In Kano, Rev Father Inalegwu Resigns, Quits Priesthood [PHOTOS]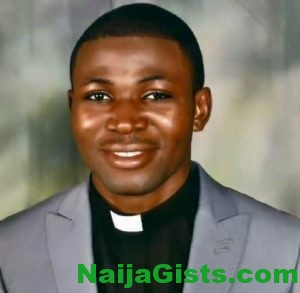 October 23, 2017 – Photos: Catholic Priest Rev. Father Gospel Inalegwu Kidnapped In Kano Quits Priesthood, Tenders Resignation Letter
Catholic Priest Kidnapped In Kano, Rev Father Julius Gospel Inalegwu Quits Priesthood, Relocates To Benue State After Resignation
Another popular catholic priest has resigned from the post of a priesthood and has left the Catholic church over lack of safety.
Reverend Father Julius Gospel Inalegwu who spent several days in the day of his kidnappers last year requested that he be transferred from the parish where he was kidnapped shortly after he regained freedom but his request was not granted, this we learnt prompted him to resign from his duty.
According to Kano Diocese Bishop, Inalegwu who was ordained as a priest in 2013 has tendered his resignation letter and has travelled out of Kano.
See more photos of the priest whose story went viral yesterday