Entertainment News
Chika Ike Divorces Husband After Marriage Crashed – "I'm Getting A Divorce"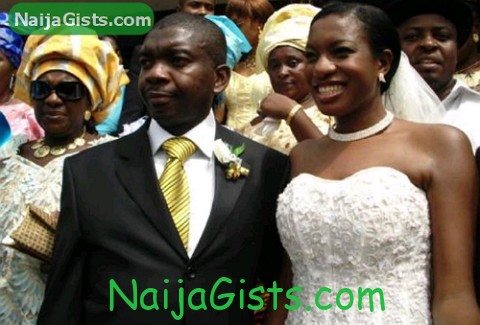 Chika Ike & Husband On Their Wedding Day
Jan 14, 2013 – Chika Ike Divorced Husband After Marriage Crashed – "I'm Getting A Divorce"
Nigerian actress Chika Ike who got married in 2006 to her husband Mr Ebirebi has revealed that her once rosy marriage has finally crashed. naijagists.com
The actress who claimed to have made up her mind about moving on said she has started a divorce proceeding to formally separate from her husband of over 7 years.
In a recent interview, the actress who was rumoured to be in a secret romance with Senator David Mark claims her marital problem started long ago and that she is trying to take it slow in order to prevent divorce in the future.
Below is an excerpt from the interview she granted:
I understand this is a sensitive topic but could we talk about your marriage. How long were you married for?
I was married for about five years.
The end of your marriage brought up a lot of speculation with people insinuating different reasons in the media but up till date you haven't really come out to say what went wrong. Why are you quiet about it?
I'm a very private person and I keep my private issues to myself. As an actress, there are some things I don't want to let out. My marriage is a very sensitive topic and I don't really like to speak about what I went through.
The major rumored reason was domestic violence and this is something a lot of women face in their marriages. A popular blogger once advised that you tell your story so that other women can learn from your experience.
Maybe when the right time comes, I'd talk about it. There is something I've been avoiding saying but I'd tell you.
I'm separated and I'm working on my divorce and very soon I'd get a divorce. Even if it's so hard to believe, I've decided to let bygones be bygones and move on without him in my life. Both of us are still on talking terms and I've also learnt to forgive him. Maybe when I'm done with my divorce, I would be able to talk about it. I'm going through a lot of emotions right now and it's still very fresh.
I quite understand. Do you think getting married at a young age was a disadvantage or had anything to do with the way it ended?
I think it has to do with so many reasons, one of them might be being young. Some people get married that young and have been able to make their marriages work. But if you're young, you're young. There are some things you've not experienced. You might not be able to stay calm when you're supposed to stay calm, understand when you're supposed to understand or leave what you're supposed to leave.
Also, I think these days, a lot of people are not happy in their marriages. I have a lot of friends who would have left their marriages but because of the African society, their in-laws, what people will say or other factors, they stay. We've heard of a lot of deaths caused by bad marriages and before the death, there would have been signs, things that have been happening leading up to that. I think it has to do with age and so many other things like compatibility and not being true to yourself in the marriage.
Everybody has a limit. There are some things in marriage that you might not be able to stand. Some people's limit might not be my limit; my limit might be somebody's starting point.
Have you moved on and are you willing to try again?
I've moved on but marriage right now is not at the top of my list. I'm still trying to get myself together. I don't want to make the same mistake twice. I have to understand the person I'm going to be with. There are so many things involved.
Question Of Day:
How come some Nollywood stars find it hard to hold their marriage?