Crime News
Child Abuse: Father Bound Daughter With Duct Tape & Shares The Picture on Facebook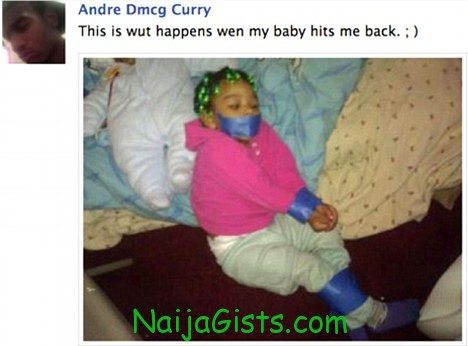 Dec 20, 2011 – Child Abuse: Father Bound Daughter With Duct Tape & Shares The Picture on Facebook
This man by the name of Andre Curry termed an idiotic sperm donor binds his daughter's hand and feet with duct tape and has the effrontery to put the picture on Facebook. naijagists.com
The irresponsible man, 21 year old Andre Curry, claimed he did this to his daughter because she hits him back.
Looking at the picture, the poor girl could not be more than 4 years of age and anything could have happened in the cause of his insolent act. This is abuse of the highest order and the man is not fit have any child in his custody.
Who are these stupid women opening their legs for these fools in the first place?