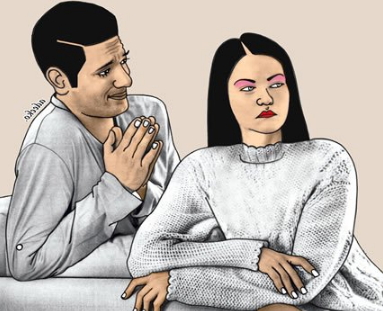 I Regret Accepting Proposal From Man I Met On Facebook – Divorce Seeking Wife Warns Women Against The Social Media
An Ibadan based housewife and mother of 1, Abas Olaitan today told an Ile-Tuntun Customary Court in Ibadan to dissolve her four-year marriage to her husband, Ibrahim, on grounds of wickedness and child abuse.

The fashion designer, who lives at Osungbade area of Ibadan, accused her husband and mother-in-law of being responsible for the sudden losses of her pregnancies.

"My lord, if I had known that the social media platform or Facebook was not the best place to find a spouse, I wouldn't have accepted Ibrahim's proposal.

"As much as I tried to have a second baby, I discovered that I was experiencing sudden losses of pregnancies and this gave me serious concern.

"Studying the whole process, it became glaring to me that on each occasion of the pregnancy loss, Ibrahim and his mother had always been giving me a soft drink though I was unaware of the poison they put in it.

"I can't count the number of times I announced the news of my pregnancy to them and how many times they aborted my pregnancies.

"Worse still, the only child I have with Ibrahim is currently being taught to be a drunkard. The child is daily being abused.

"Anytime Ibrahim is taking his alcoholic beverage in the sitting room, he usually invites our two-year-old child to join him and in fact, he feeds him with beer.

"Ibrahim's mother remains a bad example to womanhood because she invites her male friend, who is a politician, into our house to commit adultery there.

"Since my four years of living with him, Ibrahim's mother has been cooking our meals.

"My mother has been catering for the child and me as Ibrahim had not shown care.

"It was also my mother who paid for the rent of my shop," Olaitan said.
The respondent, who did not oppose the suit, however, denied some of the allegations levelled against him.
Ibrahim, a construction engineer who lives at Odo Ona-Arapaja area of Ibadan, accused his wife of adultery.
"My lord, I have every record of my sexual intercourse with Olaitan and whenever she informs me of her pregnancy, I am quick to deny responsibility.
"Subsequently, I don't know how the pregnancies disappear.
"My mother is not adulterous," Ibrahim also submitted.
The court's President, Chief Henry Agbaje, was, however, not satisfied with the evidence produced by the duo to support their arguments.
Agbaje ordered them to return to the court with more evidence, along with their parents
He adjourned the case till March 13.
Follow NaijaGists.com on Facebook and Twitter.