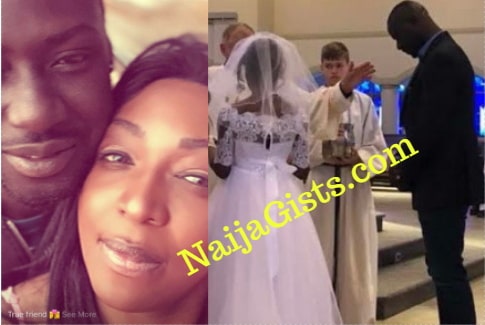 The secret double life of Ghanaian actor Chris Attoh that allegedly led to his bitter separation from his Nigerian wife Damilola Adegbite has been exposed.
Days after Chris Attoh married the love of his life, Bettie aka Paper wife, his long kept secret has been exposed.
According to an insider in Minnesota, Chris Attoh is still married to a super-wealthy doctor whose identity is yet to be revealed.
The doctor who loves her privacy reportedly married John Dumelo at some point.
Here is an unedited email NaijaGists.com received from the insider.
"All I have to say to nothing but the truth I know with attached Facebook posts. I'm a Nigerian in Minnesota. A friend of mine invited me and another to a birthday party at a wealthy doctor's home. I got there and found out she was throwing a lavish birthday party in her mansion for Chris Attoh May 19. I later friended her on Facebook and one night she posted a very romantic picture of both of them and later took it down.

Following that I saw many pictures of her and Chris and her family. A close friend of her's denied their relationship but later explained it was due to a "situation" he believed Chris was in that's why. But he said Chris was definitely enjoying an extravagant undercover life . The lady in question he told me is an extremely private doctor. It was alleged at one point she was married to John Dumelo.

Her page also has extravagant vacations with John. He is just a man struggling to make it in America so we should let him be. I attached photos for proof and can provide you more. Do not expect any information from anyone around her because they are all high professionals living lavish secret lives."
What is more concerning is that this same Chris Attoh who many are now referring to as a Gigolo married another American woman in Accra Ghana last weekend.
He is definitely living a double life. Such is least expected from a man of his calibre.
This explains why his ex-wife Damilola Adegbite said she will take her time to marry a real man.
Their marriage produced a son before it crashed over irreconcilable differences.
Months after the marriage crashed, 39-year-old Attoh unveiled the new woman in his life as 55-year-old Carribean American woman nicknamed Bettie.
With this new revelation of a secret American wife, he may soon be facing bigamy charges in the US.