Crime News
Flashback: How The Judge Who Freed Drug Baroness Toyin Igbira From NDLEA Met His Untimely Death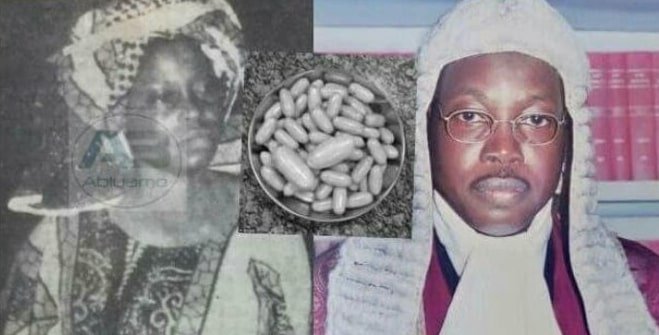 Flashback: How The Judge Who Freed Notorious Cocaine Drug Baroness Toyin Igbira From NDLEA Trap Met His Untimely Death In Saudi
A flashback story of HOW JUSTICE ABUBAKAR ABDULKADIR JEGA Assisted Nigeria's Most Notorious Drug Baroness And Unrepentant Cocaine Peddler Alhaja Toyin Igbira Escape Justice In August 1999 After Her Arrest And Imprisonment
One of the countries I admire most on the planet is Singapore. It has everything that my beloved country, Nigeria does not have. Although Singapore is very tiny, so minuscule that Lagos, the smallest state in my nation, is five times bigger than this southeast Asian nation called Republic of Singapore. But make no elaborate mistake, Singapore is one of the richest nations on earth.
In fact, just two nations are richer than Singapore in the whole world. This is a country that has no natural resources but leads the world in education, healthcare, technology, life expectancy, housing, personal safety and quality of life.
But how come Singapore that got independence from United Kingdom in 1963 is so successful while Nigeria that became independent from the same colonial power in 1960 is struggling with devastating indicators such as the second worst infant and maternal mortality rates on earth? Well, the answer lies in the hands of Lee Kuan Yew, the first Prime Minister and the founding father of modern Singapore.THE POWERFUL MIND: Lee Kuan Yew: Nigeria has not had a visionary leader like LKY – yet.
Better known as LKY, it was Lee Kuan Yew who was the brain behind the incredible leap of his country from being a haven of poverty to one of the most admired corners of prosperity in the world. However, he was able to achieve such a mindblowing transformation because he ensured the judiciary was reformed. It was so thoroughly reformed that any form of indiscipline was severely dealt with. In fact, trafficking in drugs was followed by the death sentence. The tolerance for nonsense behaviour is so low in Singapore that it has the world's highest rate of execution in the world in relation to population.
For LKY, the rights of their law-abiding citizens to a life devoid of the nefarious effects of drugs trumps the so-called human rights of the drug mules. Why am I comparing Singapore with Nigeria? I am doing so simply because while the judiciary is one of the pillars of success in Singapore (where African leaders like Robert Mugabe of Zimbabwe now shamelessly limp to for medical care), the same judiciary is one of the biggest obstacles to progress and development in Nigeria and until a proper reform of the Nigerian judicial system is done, nothing is really going to shift for the betterment of the society. I will use the case of this infamous drug peddler as an illustration.
Toyin Igbira: She had no equal or rival in the game, at least as far the gender was concerned.
Notoriety personified, Toyin Igbira was one of the most difficult nuts for the NDLEA to crack. For years upon years, he managed to outsmart the nets of the country's top drug law agency. She seemed invincible and smooth, she always operated under the radar like the lethal B2 Spirit Stealth Bomber of the United States Air Force. Igbira was known but no one knew how to nab her until luck smiled on the agency one sunny day in December 1997. There was jubilation in the NDLEA camp. One of their most prized assets was finally in their trap and they were so ready to ensure that she would rot in jail. But it was not to be. Something that would never have happened in Bedok, Singapore happened in Lagos, Nigeria.
THE SUPREME COURT OF SINGAPORE AT NIGHT: New and old Supreme Court buildings. The Court of Appeal occupies the 'disc' atop, representing the highest level of justice, and a modern interpretation of the dome.
At the very top of the list of the self-confessed drug kingpins was none other than Alhaja Monsurat Oluwatoyin Oyemade Abraham aka Toyin Igbira. On that same list were seasoned drug peddlers and cocaine trafficking veterans such as Steven Akinyemi Akingba aka Akinse (who interestingly, was the United States-based ally of Toyin Igbira), Mohammed Mohammed who was an immigration service officer attached to the Murtala Muhammed International Airport, Ikeja in Lagos and it was from his duty post that he facilitated all kinds of illicit drug transactions within and outside Nigeria, Peter Oriamen, Babajide Adeoye, Tokunbo Olaiya, Rachel Moronlayo Adeniran, Yetunde Akintan and another suspect who was captured with him.
To the utter shock and massive heartbreak of the NDLEA, five of these nine major drug suspects were all freed by Justice Abdulkadir Jega of the Federal High Court Eight. Those who regained their freedom in the hands of Jega incuded Toyin Igbira, Akingba, Oriamen, Adeoye and Olaiya. As for Mohammed, he was granted bail by Justice (Mrs.) Olomojobi while Adeniran, Akintan and his fellow in crime were released by Justice Kassim of Court Annex Two.
On the 24th of August 1999, Justice Abubakar Abdulkadir Jega threw a dagger right at the hearts of the tireless NDLEA operatives and detectives when he granted Toyin Igbira bail in the sum of N1 million with two sureties each in like sum. Small piece of cake. She promptly met up. All she had to do was to press buttons on her vast Lagos-Ijebu Ode network. But the NDLEA operatives were so furious with the baffling judgment that they were ready to pounce on Igbira and re-arrest her immediately with fresh charges on her neck. In order to ensure this did not happen, Justice Jega personally and physically shielded Toyin Igbira from the action-ready NDLEA operatives when he drove her out of the court premises with his own car all in a bid to just make sure the NDLEA operatives do not rearrest the heroin baroness. Although the case was adjourned until the whole thing went hazy.
NB: Justice Abubakar Abdulkadir Jega (who happens to be the brother of former INEC Chairman, Professor Attahiru Jega) would later rise to become an Appeal Court Justice.
In September 2015, Justice Jega was crushed to death during a Hajj stampede in Muna, near Mecca in Saudi Arabia while the pilgrims were on their way to Jamarat to perform the stoning of Satan. Jega was a member of the Kebbi State's hajj delegation to the desert kingdom.