Dating Tips
Dating A Nigerian Yoruba Man: What To Expect!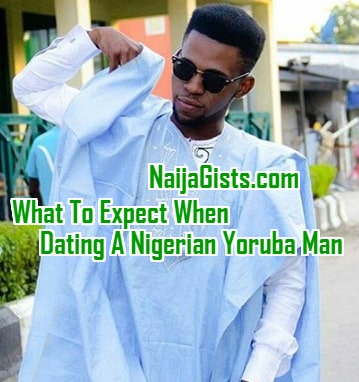 Dating A Nigerian Yoruba Man: What To Expect In Terms Of Culture, Family Tradition & More
Yoruba men say are one of the most sought after men by women of various ethnic groups in Nigeria; when it comes to dating and marriage. This is probably because the men are trained to be respectful and helpful just like other tribes.
The Yoruba People And Their Culture
The Yorubas are a people with a rich and wealthy heritage. They are an ethnic group located in the South Western region of Nigeria which is made up of Lagos, Ogun, Ondo, Ekiti, Osun, Oyo States and parts of the North Central region like Kogi, Kwara, as well as a few other regions in Edo state.
A few other tribes in Nigeria are also believed to have earlier been related to the Yoruba tribe of Nigeria like the Benin, Igala and Itsekiri people. The Yoruba are widely traveled as they can also be located in the various continents of the world. This group is considered to be one of the largest ethnic groups in Africa and one of the most developed as well.
The Yorubas are over 44million in number so you will definitely come across them at some point no matter where you are. The people are known for their colorful ceremonies and their high value in culture and respect.
If you find yourself dating a Yoruba guy, as a non-Yoruba lady you have quite the journey ahead of you if he eventually decides to pop the question. As you will need to access him during the period of dating.
There are certain characteristics he will consciously or unconsciously look out for in you, so beware. He will access you not only on the basis of what he wants, but also on the basis of what his family expects. If he overlooks certain things, his family members mostly likely would not, if you eventually do get to meet them. You will be accessed based on the following:
Level of Respect
Now this is very important and surely has to come first. The Yoruba people place a very high value on respect and have inculcated this in their children from birth through generations.
Their mode of greeting is an example of such as a Yoruba male, child or adult will always prostrate before an elder no matter how impeccably dressed he is or how inconvenient it may be; failure to do this results in the him being termed as an uncultured fellow. In the same vein the ladies young and old are expected to kneel or bend at the very least while greeting someone older.
Therefore dating a Yoruba man requires you learn this act because it will be needed when the time is right to meet his family. The term respect does not just stop at greeting but extends to the manner in which it is delivered. The way you greet, your expressions and body language will be carefully be observed by his family.
Your method of speaking is also accessed. The Yoruba people are famous for reading meanings into spoken and unspoken words. So watch out for the mode in which you speak, ask and answer questions, because it could be interpreted in a whole different way and termed as a display of disrespect.
So what is the whole point of this? Always show respect and courtesy no matter what. Greet just about any and everybody should you have the opportunity to meet his family, learn to kneel or bend while doing so. Kneeling while greeting should become your best friend. Your making an effort to adhere to the culture will surely score you more points.
If you are a natural in the ethics of respect then you are more than half way there. If you lack respect and the basic principles of courtesy, you should definitely get educated in that line. This could most likely hinder you getting a proposal from a Yoruba man.
Your Cooking Skills
It is common knowledge that men have a healthy appetite for good food that is. Nigerian men are usually searching for those few ladies who can whip up culinary magic, if not as good as their mothers cooking then something close.
If you are already skilled in this act, due to the difference in culture and tradition, you may have to make a few adjustments when making the same meals. For instance it is a common knowledge that the Yoruba have a love for spicy and oily foods.
If you are lacking in this area, things have been made easy in this century. You could easily find resources in written and video formats on the internet for self education or better still enroll in a school.
The Yoruba man may claim not to mind, but  his family most certainly will when they get to know and consider you are incapable of looking after him; most especially his mother.
Yoruba men and their mothers have an unspoken bond. Should his mother dislike you, then it is almost certain you will not be joining the family.
So learn or brush up your cooking skills however the case may be, as this is a requirement for most Nigerian men. No man really wants to live out of take out packs all his life.
Mode of Dressing
With access of just about everyone to fashions trends all over the world, creating and trying out new styles have become the order of the day. Fashion now plays a key role in the lives of the ladies; with each one trying to out-do the other. All in the hope of getting the attention of a man and keeping it, ladies are known to go to extremes with their looks.
Fashion and style sure is a blessing, but when getting dressed the key is to look gorgeous and elegant. Be sensible when copying styles of the western world. Nigerian men still look out for decent women when wife-hunting. Be fashionable but strike a balance so you don't cross the line into indecency.
Put on classy and respectable clothing. If a Yoruba man has termed you as indecent with respect to your dresses, then he most likely will not want to introduce you to the permanent members of his household. You may just end up being a passing fancy.
So avoid indecent exposure you would not want to run into his mother or some other family member dressed up as someone with questionable morals.
Good Character Traits
Not just Yoruba men but all men love a woman with character. Mean and character flawed ladies are avoided like a plague. Who you really are cannot be covered for long as that is your essence. People can often smell what kind of person you are from a mile away.
If you are mean and rude to those around him, it goes to say a lot about you and the future of your relationship. Let him see that you are kind and easy to talk to, someone who will respect him as well as his dreams and aspirations.
Let this also extend to his friends and people around him, his friends also play a role in his decision. You don't have to like all his friends but respect and be polite to them anyway it scores you points.
A Yoruba man will not take a girl lacking in character to meet his family as she will definitely not be accepted. He will most likely be called aside and advised to look elsewhere and will do so out of respect to his family.
Your Smarts and Intelligence
No one is asking for the rocket science kind of smarts and intelligence. But by all means don't be that lady who cannot contribute in any mental capacity to your man's life. Make an effort to step out of your comfort zone, learn new things, read books and broaden your horizon. Be a lady who can also follow simple conversations that have nothing to do with TV shows and latest fashion trends.
Also learn to be sensitive and smart enough to read expressions and unspoken words. The Yoruba's are quite skilled in the act of indirect speeches and silent communicating. It will undoubtedly earn you respect and make you more acceptable in the eyes of a Yoruba man when you can see through these expressions and understand their codes.
The list is not limited to these points which have been expressed. But they are definitely some of the most important which could earn you a proposal from a Yoruba man. Emphasis on the word could as there is no sure way to get a man to propose.
After all said and done, you can go about all the basic rules with diligence and accuracy and still not get a proposal. Be smart enough to know when to tarry and when to say goodbye to a relationship which has no future.
Avoid selling yourself short with the hope of getting a proposal.
Be careful with making sacrifices and major compromises when it's obvious that future plans in the relationship are a one sided affair.
You deserve a good relationship and you deserve to be happy.