Nollywood
Dayo Amusa: Marriage Is Not Shopping Mall… I'm Taking My Time To Do It Right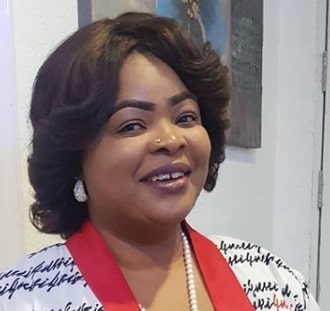 Excerpts of Nollywood actress Dayo Amusa's recent chat with Vanguard's Reporter Adetutu Adesoji
What is new with you?
I have my new movie 'That Which Binds Us' in the cinemas. It started showing in major cinemas nationwide on the 5th of October. I produced the movie which was directed by Desmond Eliot and the screenplay by Dayo Farore. 'That Which Binds Us' is a story about family, it talks about family values and challenges we face as a family but sometimes don't really pay attention to. It is a family tale about love, betrayal, human weakness, individual deficiency and it teaches how to see through these challenges.
What inspired 'That Which Binds Us'?
Nothing basically, the story was not written by me. The screenplay was by Dayo Farore, so, I think he would be in the best position to answer that question. For me, I loved the script when I picked it up. I saw the message as something that will get across to many people as it will teach them the importance of family values and ways to overcome challenges as a family.
You had so many big names on the cast of 'That Which Binds Us', what was on your mind during the casting process?
I like to diversify when I do things sometimes, but above all, I make sure that I deliver while doing that. While I was reading the script and in the process of casting, I realized that the set of characters in the movie were the best people I could work with on that project, in persons of Desmond Eliot, Uche Jombo, Mercy Aigbe, Toyin Alausa and others. I will say the script dictated the cast.
What was working with these people like, can you relive your experience on set?
Well, I have worked with Uche Jombo before, she was in my movie 'Dewunmi Iberu'. I have worked on her project as well, we have had a good working relationship, we have also been friends for a while in the industry. For Mercy, we have had reasons to be together and work together. I have also worked with Desmond a couple of times, he directed one of my hit movies, 'Unforgivable'. It was fun all the way, it was like working with family, everyone knew what needed to be done at the appropriate time. We were always at the right place at the right time, doing the right thing and with that, everything went smoothly. We were one big family on set.
Will you say the cinema culture in Nigeria has been a blessing or a curse to you?
The cinema has been a blessing to me, this is my third cinema movie. The cinema is a platform that you would love to have your projects in, cinema is the real deal for filmmakers and I hope that we get more show places and cinemas in the country for people to really enjoy what Nollywood has to offer.
Some filmmakers complain of not making as much as they invest in the cinema, what will you say such people are not doing right?
Well, I think the first thing is PR because if you have a product and you don't put it in the right places for people to set there is a possibility that such a product will be a flop. Proper hype, trend and publicity does a lot of work, it gives people room to know that a particular movie is coming to the cinema because they would have seen it in the papers, on TV and social media platforms and they will anticipate. It is one thing to have a good movie and it is another thing to have a proper publicity plan for the movie, it works hand in hand. If you don't do a proper publicity for a movie, be it a good one or not, it might not really cut across the mileage that you expect of it.
There was a recent debate by some industry players that not all movies are fit for the cinema, don't you think storyline is also important?
The quality of the story is important but so many other things should also be put into consideration. Aside the story, the quality of the movie itself, the cast, the production team and a whole lot come together to make a successful movie. However, I agree that not all movies should be in cinemas, like I said earlier, a film might have a good storyline but still not be up to cinema standard.
What is new with your music?
Very soon I will drop a playlist which will consist of all my released songs, including two new singles. It will be a playlist of about six to seven tracks. Hopefully, it will be released before the year runs out, probably in November after I'm done with the cinema movement for my new movie.
Aside filmmaking and music, tell us about your other businesses?
I have a production outfit, Amzadol Productions where I produce my movies as well as my music. I have a crèche, I also have a toy store where we deal in kiddies indoor and outdoor toys, clothes, games and what have you.
With such interest in children, do you have a child?
I don't have a child, my investment in children has nothing to do with whether I have a child or not. It is a good business that I started a long time ago and it is capital intensive. It is just business basically with nothing attached to it.
You have mentioned in some interviews that you are fascinated with the concept of love and romance, many will wonder why you are not married yet?
Whenever I'm asked this question I wonder what gives people the impression that I'm not married. Is it because I don't go around wearing a wedding band? I could be married but decide to keep it away from my public life don't you think?
So, are you married?
No I'm not married. I believe marriage is blessed by God and should be honoured by man but then it is not something one should rush into. It is not a shopping mall where you can just go into and buy or do some window shopping and leave when you are tired. Marriage should be done right. Don't worry, you will hear a wedding bell soon.
You recently stirred up a debate about sex on social media, what were you trying to teach with your post?
I just wrote all I understand about sex in that Instagram post. I wrote that sex is good and unique. If you are lucky to have very good sex you will come alive. It boosts confidence of a woman because she will be happy and smile from within.
What is your take on feminism and will you identity yourself as one?
I support feminism but not to the extreme.I won't identify as a feminist 100 percent.