Crime News
Driver Who Stole Beer Worth N10Million A Month After Employment Arrested In Makurdi Benue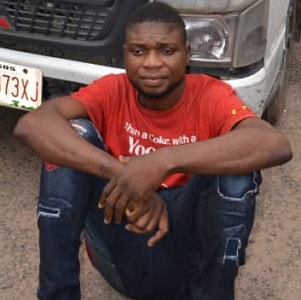 Driver Who Stole Beer Worth N10.3Million A Month After Employment Arrested In Makurdi Benue
Mr Dominic Nege, a company driver who escaped into thin air after stealing 143 cartons of beer from his employment has been arrested.
The suspect who committed the offence in Lagos on the 14th of March fled Markurdi Benue state where he was picked up on the 11th of June.
This is what Lagos Police Commissioner Edgal said about Nege's arrest.
"Sometime in February, one Dominic Nege approached Rabel Nigeria Limited, a subsidiary and distributor to International Breweries, the manufacturer of Trophy Lager, for employment as a driver. He was profiled by the company but he provided false information including fake address. The same goes with his guarantor.

"Having secured the employment, the company on March 14, sent him to Mammy Market, Bonny Camp, Victoria Island. After loading 143 crates of Trophy bottles with liquid contents, valued at N10.3m, the suspect diverted the goods to unknown destination and switched off his phone.

"Investigation into the case commenced immediately.

"The intelligence component of the Command was mobilised to assist operatives of FSARS with necessary information.

"Efforts to arrest the suspect paid off on June 11, when he was traced to Makurdi, Benue State. During interrogation, the suspect led detectives to Sangotedo in Ibeju Lekki, where the Mitsubushi Canter Truck was abandoned after he had disposed the goods. Investigation is ongoing."