Crime News
Drug Addict Pours Hot Water On Mother In Minna, Says He Has No Regret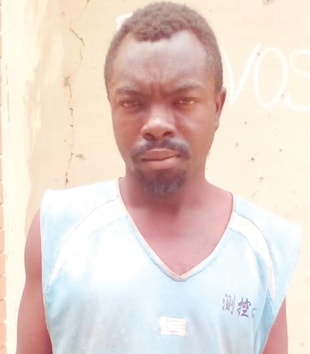 Drug Addict Pours Hot Water On Mother, Says He Has No Regret..Man Arrested After Third Attempt To Kill Mother Fails
Musa Umar of Okada Road, Minna, Niger State, has allegedly poured hot water on his aged mother. Umar was arrested yesterday by the officials of the state Command of the Nigeria Security and Civil Defence Corps (NSCDC).
The NSCDC told our correspondent that the 35-year-old suspect, who was on the run for causing grievous bodily injury to his mother by pouring boiling hot water on her, was apprehended by neighbours and handed over to men of the corps.
The suspect was believed to always be under the influence of alcohol, believed to be the banned 'tontolin' and sometimes cannabis.
Umar, however, did not show any sign of remorse for his action.
"I actually poured the hot water on her without any genuine reason. I am ok, I don't regret it," he said during interrogation.
It was learnt that Umar had attempted to kill his mother twice by hitting her with stones and stabbing her with knife.
Confirming the arrest, the state NSCDC Public Relations Officer, Ibrahim Yahaya, said at the end of investigation the suspect would be prosecuted. Yahaya added that the mother, Mrs. Umar, who was still on admission at an undisclosed private hospital, was responding to treatment.