Crime News
Vikings Confraternity Vs Black Axe: Cult Clash Claims 3 In Eket Akwa Ibom State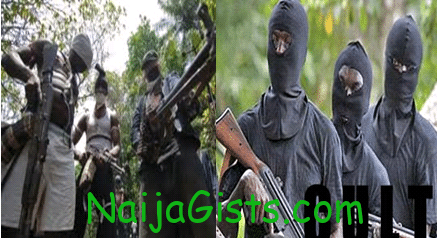 The rivalry war between two cult's groups— Vikings Confraternity and Black Axe— has claimed the lives of three persons in Eket Local Government Area of Akwa Ibom State.

A source, who pleaded not to be named yesterday, disclosed that the two groups have been after one another for the past three months before the weekend clash that started in a motel at Afaha Uqua Eket According to the source, one was killed at Liverpool Road, another in Uqua Village, while the third person was killed at a sit-out at Atai Ndon Village, all in Eket. Cult clash
He said:
"The clash leading to the death of three cult members started on Sunday, when a member of Vikings Confraternity unleashed terror on a member of the Black Axe with machete cuts."
According to him, two friends belonging to different cults sat at a motel along Afaha Uqua Road, when members of the Vikings went there and hit their fellow members, accusing him of disloyalty. He added that the Vikings member ran away as he proved his disloyalty to his fellow members.
His words:
"But the Vikings descended on his friend, who is a member of Black Axe who intervened as the Vikings member friend ran away.

"The blow from the Vikings led to severe machete cuts on the Black Axe member. "Since that period, the two cult groups had been in a brawl, which finally led to the death of their members, with scores injured."
The Police Public Relations Officer in the state, DSP Odiko MacDon, who confirmed the incident, urged members of the public to go about their normal businesses without fear as the Police are on top of the situation. He explained that the laws proscribing cultism and gangsterism in Akwa Ibom was still in force, and warned the perpetrators of the act to desist henceforth.
He said: "We have deployed our men to contain the situation. The Police will not tolerate any act that will lead to breakdown of law and order in the state."