Crime News
Drunk Policeman Kills Innocent Girl During Gunfight With Suspected Cultists In Ikorodu Lagos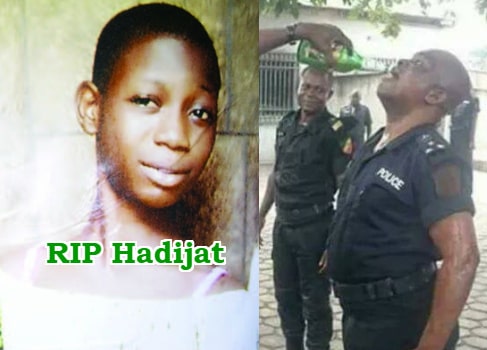 Drunk Policeman Kills Innocent Girl During Gunfight With Suspected Cultists In Ikorodu Lagos
A drunk cop who was said to be intoxicated while on duty, allegedly shot dead a teenager, Hadijat Sikiru, in the Adamo area of Ikorodu, Lagos State, on Monday.

However, the Lagos State Police Command, through the Public Relations Officer, Bala Elkana, had said on Tuesday that a team of policemen exchanged gunfire with suspected cultists while on surveillance duty around Adamo, adding that in the process, Hadijat was hit by a stray bullet while two police personnel sustained injuries.

The story, however, took a new dimension on Wednesday when PUNCH Metro visited Adamo, as eyewitnesses, alleged that the police fabricated their statement to cover up what truly transpired.

One of the eyewitnesses, Tope Amusan, said the policeman, who fired the shot that killed Hadijat was intoxicated, adding that immediately he realised that the girl was dead, he fled the scene to escape being attacked by the angry mob that had gathered.
Amusan said,
"When I read the police statement about what happened on the pages of newspapers, I was shocked because they churned out lies. The police officer was responsible for the death of that young girl and their statement was fabricated to cover it up.

"What actually happened was that around 5pm on Monday, people were playing games underneath a tree around Adamo junction when the policemen came to eat at a food vendor's place around there. One of the officers, who wore a jacket inscribed with the number 147, came out of the food vendor's shop and fired a shot in the air. This took everyone by surprise, because there was no imminent danger.

"I saw him leaving towards the vehicle that he and his colleagues brought and about 15 minutes later, I heard three gunshots. A woman, who is a food vendor, ran out and was screaming that the police had killed her daughter. The woman held the policeman firmly but he managed to wriggle free, ran towards their vehicle and escaped."
PUNCH Metro learnt that while some youths gave the fleeing police officers a hot chase as they drove towards Imota to evade the impending mob attack, others took to the street to protest the unjust killing of Hadijat.
The deceased's mother, Janet, said her daughter was assisting her to cook when the policeman fired the shot that killed her, adding that when she called a neighbour, Remilekun, to help her apprehend the cop, he allegedly shot him in the hand before escaping.
Janet stated;
"One of my friends brought his car and advised that we take my daughter's corpse to the Imota Police Station, and when we got there, the police detained me and the people who helped me to take the corpse to the station.

"Around 11pm, the police officers started begging me to get into their vehicle so that they could drop me at Adamo and I said I would not go anywhere until they release all those who assisted me to bring my daughter's corpse there.

"They pleaded with me to leave and promised to release them and I agreed to leave. The neighbour, who they shot, is at Igbobi, while the ones who assisted me are still in their custody as I speak to you. I want justice. I was told that the policemen responsible for the death of my daughter were from Ketu-Epe Police Station."