Crime News
Evil Shrines, Satanic Temples Behind Incessant Killings & Cultism In Aleto Eleme Rivers State Destroyed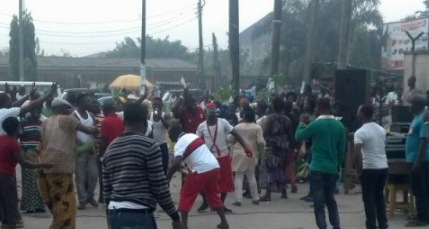 Evil Shrines, Satanic Temples Behind Incessant Killings & Cultism In Aleto Eleme Rivers State Destroyed
Joy took over in Aleto area in Eleme, Rivers state as the indigenes celebrated the destruction of shrines that were said to behind incessant killings, armed robbery, cultism and other nefarious vices in the area.

At a special thanksgiving service held by indigenes, under the auspices of Aleto All Believers, indigenes and residents expressed that the destruction of the shrines extricated them from the shackles of the devil and its temples.

Prominent Aleto indigenes that attended the service included Captain Kalio, a former military administrator of Yobe state, who was commended for his role in ridding the community of temples.

The theme of the programme was 'Praise ye the Lord', they said, gloried God, for how He cleansed the community from the scourge of shrines and other vices being perpetrated in the area.
The President of the group, Aleto All Believers, Pastor Laleobe Friday, told our reporter that prayers were their weapons, explaining that they fought hard to ensure the community was free from shrines and also having a good educational system and some other live changing programmes.
''Aleto, as I grew up I discovered that we are backward in every area especially in education. I was the only Christian then, and fortunately I met few people that were believers and we started praying severely.

"We thank God now there is nothing like shrine in Aleto again we have drove them off from our land and before we knew it churches started to multiply in the once dreaded Aleto community," je added.
Also speaking at the event, the traditional ruler and Secretary of Eleme Council of Chiefs and elders, Chief Philip Obele Osaro JP, thanked God while reeling out all the achievements the people of the community had recorded.
His words
''Aleto has been able to produce the first ambassador in the history of Eleme, it produce a local government chairman that serve for six years, it is also the first to produce the first House of Hepresentatives from the area, and now the person leading the entire Eleme women is also from Aleto, Her Majesty, Emereowa Evelyn Ada Gokpa.

"I my humble self I am second to his majesty in Eleme I am deputizing over the six clans in Eleme that is why I am a recognized traditional ruler of the area."