Crime News
Fake Ifa Priestess Working With Robbers To Dupe Victims Arrested In Abeokuta Ogun State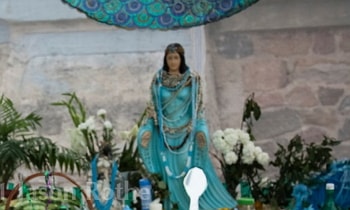 A mother of 5 identified as Ashile Basirat has been arrested for working with robbers to dupe passengers in Ogun  state.
The suspect arrested recently in Abeokuta confessed that she started the 419 business because she was once a victim.
Basirat in her confession at the Ogun State Police Command Headquarters in Eleweran Abeokuta said her gang operates by picking up unsuspecting passengers.
Once the victim is found, they would tell him or her that there was money in the booth, which could not be spent because it was spiritually locked.
They will later persuade their victim to follow them to a priest who could unlock the box.
"he or she would be brought to me, while I pretend to be an Ifa priestess (Iya Alawo). It was at the junction that we would then request for the bank details and card of the victim"
The 45-year-old said she started the illicit business in 2011 a year after she was scammed in a similar manner.
Other members of her syndicate include Olaniyan Ashimiyu, Erinosho Tajudeen and Ifeanyi Leonard.