Crime News
Family Of Victor Thorpe, BDC Operator Killed Inside Bus In Victoria Island Lagos Laments As Police Nab 7 Suspects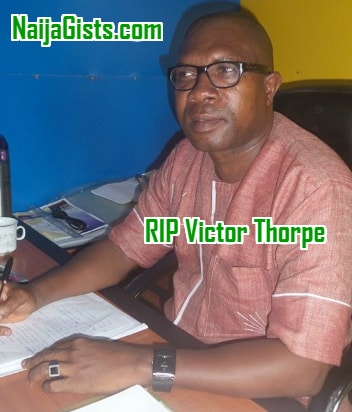 Family Of Victor Thorpe, BDC Operator Killed Inside Bus In Victoria Island Lagos Laments As Police Nab 7 Suspects
The murder of a Bureau De Change (BDC) operator, Victor Thorpe, in Lagos by assailants who snatched his company's $80,000 (N28.8m) is now under investigation.

The incident occurred at 11am on Friday when the BDC operator went to his company's vault, said to be at LEGICO building, on Ahmadu Bello Way, Victoria Island, Lagos, to pick up the money.

It was gathered that the assailants, who were on a motorcycle, double-crossed the commercial bus he boarded, went inside, snatched the money and shot him in the chest at close range.

According to a source, Thorpe dropped his car for fear of being trailed, not knowing that his killers were already monitoring him.

A family friend said the killers went straight for him inside the bus.

She said: "They demanded the money, which he released. After that, they shot him in the chest at close range.

"No other person was attacked in the bus. There were other passengers. He was a very humble and kind man and a good Christian. It is painful that he died like that. He was in his early 50s. His children are still young. The oldest is about 15 years old.

"He was rushed to the Military Hospital on Awolowo road where he died. The incident occurred by EcoBank/LEGICO building on Ahmadu Bello Way, Victoria Island. He was on his way to his office from the vault."

She wondered why the assailants killed him after collecting the money.

"Why did the robbers kill him? He did not struggle with them. Why did they not take the money and leave him? I hope that the police would investigate this case and arrest all those behind it," she said.

The matter has been transferred to the command headquarters in Ikeja according to Lagos State Police spokesman Chike Oti, who said seven suspects had been arrested.