Crime News
Awo Ekiti INEC Office Fatal Accident: 10 Bus Passengers Crushed To Death By Trailer
Fatal Accident Kills 10 In Awo Ekiti, Ifelodun Ekiti State
10 Bus Passengers Crushed To Death By Trailer At INEC Office In Ekiti
9 people died on Wednesday in a fatal accident that occurred at Awo- Ekiti in Irepodun-Ifelodun Local Government Area of Ekiti State. Initial reports said all the 18 people in the 18-passenger bus died in the accident.

The Toyota Hiace bus, said to be conveying the passengers from Lagos to Abuja, collided with a trailer in front of the Independent National Electoral Commission (INEC) office on the Awo- Igede Road yesterday morning. Bodies of the victims were squeezed in the crushed bus, with witnesses claiming that there were no survivors in the accident.
A member of Awo community told journalists that the bus rammed into the truck conveying planks which was travelling ahead. Nine people died on the spot as they were mangled in the crushed bus, while one of the passengers was said to have been rushed to the hospital.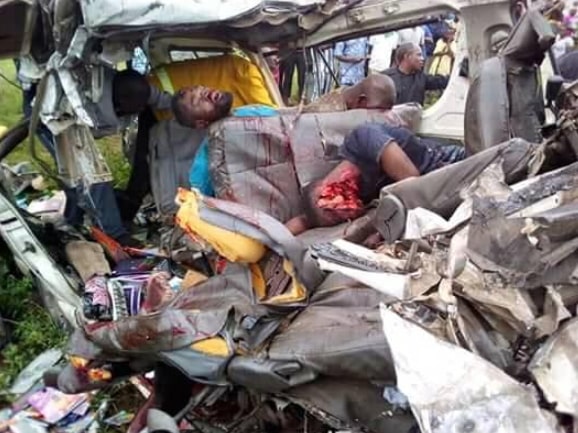 According to sources in the community, the Toyota Hiace bus, with registration number EKY 978 XJ, was believed to be coming from Lagos, while the origin of the trailer marked XB 404 FKA was not immediately known.
Residents of the community said they believed that the bus was heading to Abuja. The Public Education Officer of the Federal Road Safety Commission (FRSC), Mr. Mohammed Olowo, said the possible cause of the accident was "over-speeding and loss of control". Olowo said the accident occurred about 6.15am and that 10 people were involved. He said bodies of the victims were deposited at the mortuary of the Federal Teaching Hospital, Ido-Ekiti, while the survivor, who sustained injuries, was also taken to the same hospital.