Education News In Nigeria
First Class Degree In Nigeria: Opportunities & Challenges For First Class Students, Graduates In Nigeria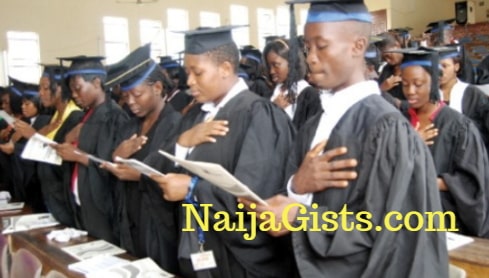 First Class Degree In Nigeria: Opportunities And Challenges For First Class Students, Graduates In Nigeria
Some people assume that students who make a first class degree are geniuses, born that way by nature. This is far from the truth. Some first class graduates confess to having failed a course or two while in the University. Some even failed UTME once or twice before finally being admitted into school.
First class graduates are looked at with awe and admired by fellow students. The society recognizes  them and it appears they are on a special cadre.
In Nigeria especially, a lot of opportunities abound for them for them both in the private and public sectors.
The opportunities are but not limited to the following:
NYSC:  It eve starts from the compulsory one year National Youth Service Corps (NYSC). In its recent announcement, first class graduates participating in the programme would be deployed to serve in the country's Universities. Although this has not been implemented, this goes to show the high esteem they are placed.
Also they are often deployed to companies and industries, polytechnics and colleges of education instead of secondary schools.
Instant Employment: Most companies especially private ones topple over themselves to give instant employment to first class graduates the moment they leave school. An example is Access Bank which offered automatic employments to 51 first class graduates of the Gombe State University. In a bid to not be left behind, the state governor, Ibrahim Dankwambo also offered the graduands automatic employment in the state civil service.
Another opportunity available for them is that they usually get reabsorbed into their universities. An instance is the Federal University Katsina where the acting VC Prof Bichi announced  that first class graduates would immediately be absorbed back into the university. Other universities have also followed suit.
Scholarships: More often not, first class graduates are usually recipients of scholarships especially from companies such as Shell BP, TOTAL etc.
As grand as having a first class degree is, there are challenges that come with it:
Scrutiny: Making a first class degree also means that every move is being watched. The mistakes of a second class graduate can be for given but not a first class graduate. This means they come under fire more than any other class.
Streetwise: First class students are usually dedicated to books and libraries hence their knowledge in other areas are affected. Hence they usually graduate but with little exposure of how the world works and how to interact with other people outside the academic environment.
Working Experience: Many first class graduates end up working for people that did not even see the four walls of a classroom. Other class of students may not mind this but first class students would consider this a spite on their pedigree.
Paycheck: Sometimes earning a first class degree does not guarantee a fat pay check especially in the present dispensation. First class graduates may expect to earn higher but they may be shocked to find out they are earning the same amount as other classes of degree.
Cash Prizes: It is a norm to award first class graduates with cash prizes and this has become an expectation. This may now foster a sense of dependency and entitlement on them. A second class graduate would not be expecting such and would most likely be more proactive to gain financial freedom on their own.
Despite these challenges, it is still something to be desired. However it has come to notice that some departments in certain universities are a clog in the wheel of progress of students trying to make a first class degree.
An instance is the Ahmadu Bello University (ABU)Zaria, where it seems some departments have been labeled a 'no go area' for students aspiring to make a first class degree.
Top on the list include the Arts And Social Sciences, Engineering, Quantity Surveying, Finance etc. The case is the same for the University of Nigeria Nsukka (UNN) where departments like Chemistry, Mathematics are the same.
The good news is that it is surmountable:
Consistency and hardwork is key especially for those in Engineering not just in the said universities but in others. For Engineering students, especially since it involves calculations and technical drawings, thorough knowledge and grasp of it is needed.
Another aspect to be worked on is to have all the tools needed or at least the basics to ensure a smooth sail.
Worthy of note are the pitfalls to avoid in the quest to achieving a first class degree. Some students want to achieve this feat without shedding a bead of sweat. Thankfully, this is almost impossible, so for every student who genuinely wants to make a first class, the following must be avoided:
Missing Classes: as earlier mentioned, attending classes is a must for anyone who truly wishes attain this feat. The reason is this, some lecturers want it word for word, verbatim. How can a student pass such a course? Missing classes can truncate the academic journey and affect continuous assessment. What is more, a lecturer's estimation of a student is greatly reduced when it comes to class attendance.
Taking Assignments and Project Works with Levity:  It is a wide knowledge that some students do not take assignments seriously. Some even elicit the help of others or even go as far as paying others to do them. Any student who wishes to excel must do their assignments and projects themselves to garner all the knowledge they need.
Partying: Some students see partying as an escape route from the academic stress. This can however boomerang especially when done excessively.
Helping Others During Examinations: This must be avoided by any student who wishes to excel. Imagine being caught helping a fellow student in a degree exam. This is one of the reasons why some students do not graduate as and at when due. Such 'acts of kindness' must be avoided.
If these pitfalls and more are avoided, the path would have been charted towards the achievement of this goal.