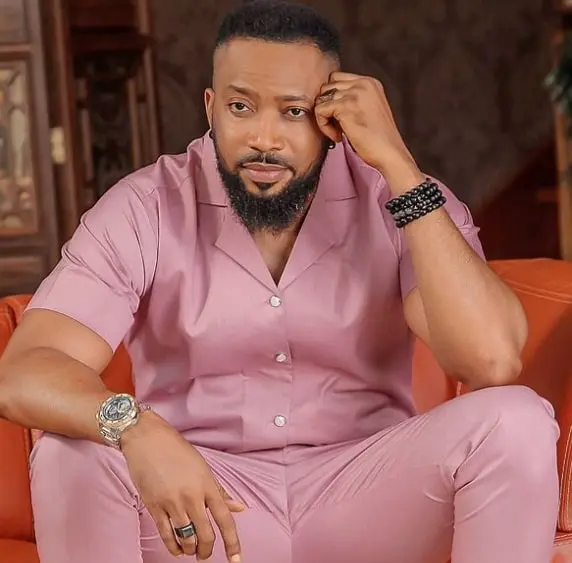 This email is submitted anonymously in regards to Frederick N. Leonard. I'm sure you guys receive all type of emails regarding this individual. I'm not impressed by him. So let me start by saying I am NOT nor have I ever been a fan of Frederick Leonard. I've never seen any of his work on Youtube. He's just an individual in the public eye to me. Celebrities eat, shit & piss like the rest of us on earth.
Celebrities are NOT exempt from crimes, lies, cheating, deceiving, manipulating & etc. So when there are countless women stating Frederick Leonard ask them for money. I get it, some are lying. The fact is there are imposters. But understand that some of the imposters work with Frederick Leonard AND Frederick Leonard, himself DO ask women for money. Frederick Leonard & his group DO contact women on FB, IG & WhatsApp with romance scams.
Don't ever think someone is too busy to have the time for nonsense. Nigeria …alot of celebs are struggling. They're asking for money to fund the lifestyle that's in the public. My particular story started 7/16/2020.
Over the course of about 2 yrs we have been in contact. We're fully grown adults. I gain nothing by sending this email. What I do not like is the fact of taking women for granted. Then making pre-recorded videos as if he wants his fans to know he's the perfect gentleman. Grow up, there's no such thing. The movies he make & produce are from situations that happen in his real life.
Let's start with random situations that he & his minions use. His sister, Sandra Leonard is in on it all:
-Supposedly, he has a daughter named Deborah that attends private school, school fees are the issue.
-Countless hospital visits, eventually being diagnosed with high blood pressure & ulcers
-End of 2020, a supposed kidnapping of crew members on their way to a movie set. Held for ransom for months until sometime in 2021 the 3 guys were murdered. Even though he supposedly paid the money.
-2021 supposedly Sandra Leonard was arrested & he bailed her out of jail even though he really needed food.
-2022 small home fire from him falling asleep while cooking.
2021 car issues
2022 he did something mistakenly to where he then needed a new car key made & it could not be done in NG
2021, I'm aware that in NG hospital fees are paid in advance. One visit, his sister stated he was in a coma from ANOTHER suicide attempt, he was upset he was left in the coma by staff due to the bill. So when they brought him out of it, allegedly he tried to fight a doctor & walked out without paying the full balance.
-He May have worked his way to the current status, however its an uncle that funded a big portion of his career. But he don't get along with the uncle because the uncle belittles him & his sister about what all he has done for him.
Let me pause & say I MOST CERTAINLY DO have screenshots, documents, recordings of everything. I've always been a person that gives people the benefit of the doubt, but I don't trust easily & I don't lie or play games with people's lives. So I have never deleted anything. I pride myself on I am who I say I am, like it or not. I don't sugar coat bullshit for anybody. Frederick Leonard & his minions are good at what they do.
One day…due to the fact that I had been contacted by more than one "Frederick Leonard". I carried on conversations just so I could compare notes between them. Since 7/16/2020 though I had been talking to the same individual everyday. So this day, I was just fed up like "who do you guys think you're fooling? Stop playing games with women, especially me. Because I will make sure you remember me."
I added ALL the Fredericks to a WhatsApp group chat. I provided screen shots of all the things each one had been sending like…"Frederick say hello to all the other Fredericks." I figured if they want to play games then let's play. Neither said anything to the other, instead a few left, another one sent me a voice memo outside the group chat, one blocked me & kept asking who sent me & he don't trust people & his name is not Frederick but he found the sim card. Ohhhh but the main Frederick wanted me to delete everything I sent. Because not only, did I do that I sent DMs to everyone he worked with. With screen shots advising them of the shenanigans.
It's so much to tell. If you ask him ANYTHING, he will give you a logical explanation OR automatically get annoyed & mad like a bitch on her period simply because you don't believe what he's telling you.
If he is questioned about anything HE did an interview for on video or in a blog, he blames the blogs or who posted the videos. Always stating that blogs change what he says & with videos, he says they're pre-recorded & posted months or years later.
Such as one video where there'sa 2-3 women on youtube claiming he used them. In the video he states he has a girlfriend, also mentioned he don't know how one woman got his number. His reaction in that video with not allowing anyone to speak & he's combative, that's the real Frederick. Short tempered, impatient big ass baby who cannot resolve conflict.
I get it, he wants the public to believe he lives up to what you see. Nothing is wrong with that. But he is an emotional man, he drinks, he masturbates, he is suicidal. He does it too where it doesn't leave bruises such as taking alot of medication. I believe in being authentic with self & loving yourself. It's not ok to have a plethora of women believing they're in a relationship when you're still fucking your ex Peggy Ovire, or whatever her name is. They spend their birthdays & holidays together, such as Valentine's Day.
Yes, he is a gigolo. The stories of him being gay are true. Well he's curious, not totally gay. The story blogger, Cutie Jules wrote 05/2020 believe it. It was about a different woman.
Let me cut this here. I'll send a 2nd email with screenshots & more detailed stories with dates, phone numbers etc.
~Anonymous