Hot Gists
Funke Akindele's Husband & First Wife Expecting 6th Child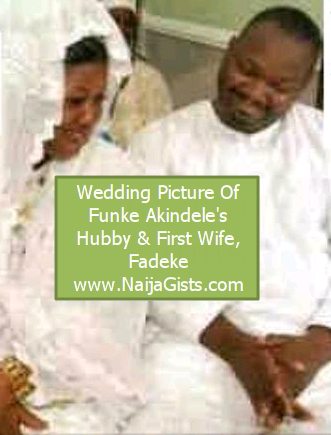 Funke Akindele's Husband Almaroof Oloyede & First Wife, Fadeke

June 22, 2012 – Funke Akindele's Husband & First Wife Fadeke Expecting 6th Child
Here is the latest gist on Funke Akindele and her husband Kenny Almaroof Oloyede.
According to a report monitored in e247mag , Funke Akindele's husband is set to welcome his 6th child with his first wife, Fadeke Oloyede who is reported to be in her third trimester.
Fadeke who was reported to have been the primary caretaker of Almaroof's 4 other children from previous romance was sent to London during Funke Akindele's wedding ceremony.
Fadeke Oloyede was Almaroof's first legal wife. The picture above was taken at their wedding few years back.
According to reliable sources, this pregnancy will make Fadeke's 2nd child with Mr Oloyede.
Fadeke was advised to travel to London during her hubby's wedding to Nollywood actress Funke Akindele because of the shock she got from the sudden news of her Husband getting married to another woman.
Fadeke who confirmed this story with E247Magazine said Almaroof humiliated her with the news of his wedding to Funke Akindele despite how she has been by his side.
Funke Akindele and his husband have arrived Nigeria are currently living in their Lekki home while the first wife stays back at Almaroof residence.