Crime News
FUTO Student Hires Assassins To Kill Final Year Boyfriend In Owerri Imo State For Breaking Up With Her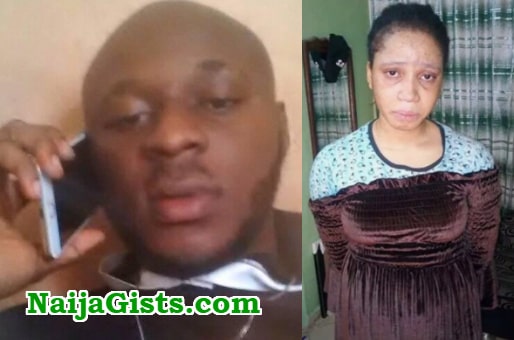 FUTO Student Hires Assassins To Kill Boyfriend In Owerri Imo State For Breaking Up With Her
FUTO Final Year Biotechnology Student Johnmark Osigwe Killed By Assassins Hired By Heartbroken Ex-Girlfriend, Chitere Okoronkwo Arrested
A University undergraduate who masterminded the murder of his boyfriend in Imo state has been arrested.
20-year-old Chitere Okoronkwo, an undergraduate of the Federal University of Technology Owerri was arrested on Monday the 11th of February 2019 in Owerri months after the murder.
Her estranged boyfriend Johnmark Osigwe was assassinated inside his SUV on the 16th of August 2018 weeks after he allegedly broke up with Okoronkwo.
Even though he paid her N3million compensation she requested for, she still went ahead to hire some assassins to terminate his life.
Shortly after the murder of 24-year-old Osigwe, a final year biotechnology student of the same institution at Nkwo Orji in August last year, she fled to South Africa.
Thinking she has escaped finally, she returned to the country last week only to be picked up at Ama Wire Urratta area of Owerri on Monday.
Police said late Osigwe paid N1.8million for shop rent and N2million for the interior decoration of his estranged girlfriend shop just to please her after their relationship ended but Okoronkwo was not satisfied.
She allegedly told one of the assassins she hired that she wanted him dead for ending their relationship.
Chitere Okoronkwo looks like a popular Nollywood actress. Their resemblance is out of this world.
We will not mention names because of their striking resemblance.
Can you guess the Nollywood actress in question?.
Hint… The ex wife of Mr X.