Columns
Godswill Akpabio & Udom Emmanuel Political Fight And The Looming "Roforofo"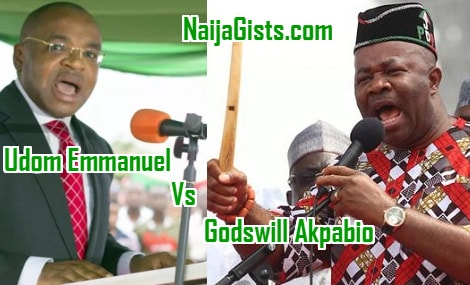 By Olukorede Yishua
3 years ago, I wrote a piece titled 'Emmanuel's Will'. The kernel of it was the refusal of the Akwa Ibom State government to make public details of the state's debt under Godswill Akpabio. It also pointed out that Akpabio and Udom Emmanuel, the man he went all out to install as his successor, were not in good terms. It was also pointed out that it was a matter of time before Emmanuel and Akpabio would go for each other's jugular.
The piece earned me names from the spokesperson of the government at the time. I was accused of making a lame attempt to portray Emmanuel as a weakling. Also thrown my way was the accusation of being an Akpabio hater. There was also the bit about me condescending to "mislead the public with personal bias and prejudices, dressed as public affairs analysis".
The government at the time said the strong camaraderie existing between Emmanuel and Akpabio was unbreakable. "They are not going to fight anytime soon or later as you wish. Indeed, for those who are waiting to be entertained with a fight by both leaders, they should prepare for a long wait," said the government.
Three years after, and another general election around, the fight is out for all to see. They are not only fighting, they are also entertaining us daily and more will still come. Akpabio some weeks back dumped the Peoples Democratic Party (PDP) under whose umbrella he foisted Emmanuel on the people. He has vowed to ensure Emmanuel's dream of a second term is not realised. Before parting ways with the governor, he accused him of abandoning his projects, which the people stand to benefit from. On Monday, he described the governor as the biggest political mistake of his life.
"Udom is a mistake that must be corrected in 2019. All hands must be on the deck to ensure the mistake is corrected for a people-oriented leadership is enthroned under the ruling All Progressives Congress (APC), at the centre," he said.
The same day the governor threatened to release facts about his predecessor. He spoke at a rally at the Onna Township Stadium.
"I have heard things, and I want to challenge any who thinks he has the truth to come out, I will use my personal money to hire CNN and other international media, AIT, Channels, NTA and AKBC, let's present facts to Nigerians, let's see who would tell the truth and who will also tell a lie," said the governor.
Interestingly, one of those supporting the governor against Akpabio is Senator Bassey Albert, the only PDP senator who has refused to defect. Albert was Akpabio's commissioner for Finance and wanted to be governor, but Akpabio shut him out because of Emmanuel. He was later compensated with the senatorial seat.
Albert and Akpabio fought dirty. Akpabio sacked Albert as commissioner alongside others against the Emmanuel-must-succeed-me project.
Albert and others vowed to frustrate the Emmanuel-must-be-governor project. Albert based his actions and insistence on being governor on a divine vision, which must not be truncated by man— Akpabio. Their actions angered Akpabio and he declared at the sod turning ceremony for the PDP secretariat in Akwa Ibom in July 2014: "Christ did not say that there will be no Judas. Even our God Almighty recognised that even the people he worked with, and called them angels, that one of them was going to betray him. And that was Lucifer, what did God do? He threw him out of heaven. Has he entered heaven till today? Those who have betrayed the governor will not enter Government House.
"You empower your children so that they will be a pride to you. You don't empower them so that they come and betray you. That is the lot of the world.
"I go back into the Bible, the Game Changer (Adamu Mua'zu, who was PDP National Chairman at the time). I saw the story of Absalom. And I said may God take away the spirit of Absalom from our midst. Who was Absalom? The son of David, the father trained him and empowered him as the would-be King of Israel. Because of impatience, Absalom wanted to take over before the age of 30. He wanted to kill King David. And the King said, leave him to his fate."
He then asked the crowd at the ceremony: "Did it end well with Absalom?"
The crowd responded: "Nooooo!"
He went on to explain what happened to Absalom: "As a young man, he died, while his father continued. I am assuring the Game Changer (Muazu) and the President (Dr. Goodluck Jonathan) that those who want to take power through the backdoor will die. They will die! And the PDP will continue. In Akwa Ibom State, those who want to betray, who were supposed to be our political children, of course they will end like Absalom. But if they change their minds, then they will obtain favour in the sight of God."
Albert did not take kindly to Akpabio's statement. In an interview published then by this newspaper, he diplomatically 'finished' his political father. He said the story of Absalom was quoted out of context. His reason: "If you read your Bible very well, then you know that despite Absalom's behavioural deficiency, King David was still in love with him. I want to say that if the governor was referring to me as Absalom, then he should love me to the end."
It seemed the governor listened to Albert's advice. He sought him out and fences were mended. The same senatorial position Albert earlier rejected is what he eventually settled for and I ask: what happened to the vision that he would be governor. May be it is postponed till after 2023, when the next governor would have served out two terms.
They eventually reached an amicable solution, which saw both of them going to the Senate. Now, Albert is standing by Emmanuel, whom he felt was better suited as governor three years ago. Anietie Okon, a former senator, has also teamed up with Emmanuel to rubbish Akpabio. So is Patrick Ekpotu, who believes Akpabio's influence in Akwa Ibom is being blown out of proportion. As far as the first deputy governor to Akpabio is concerned, 'Udom pass Akpabio'—apologies to music star Dino Melaye.
We are sure in for a good time. Akwa Ibom is sure a state where the contest for the governorship will be interesting to watch. Expect brick bats, expect scandals, expect lies and more.
The situation in Akwa Ibom has further proved that politics is all about interest, where there are no permanent friends; the only thing that is permanent is interest.
My final take:
Politicians are free to bite themselves; they are free to lie against themselves; they have the authority to throw mud at one another, but for goodness sake, they should ensure the people are not dragged down while they are dragging one another down. And my prayer is that at the end of it all, their fight will be to the benefit of the people.