Crime News
Good Samaritan, Woman Set On Fire By Drug Addict Neighbour Narrates Out Of Body Experience While In Coma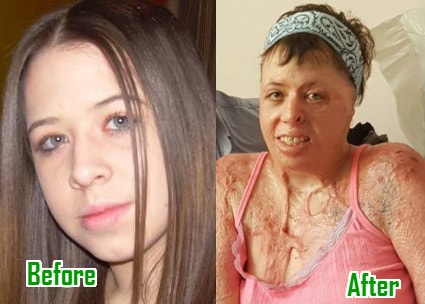 Good Samaritan Attacked By Neighbour In Milton Keynes Southern England Narrates Out Of Body Experience While In Coma
A young woman whose good deeds disfigured her has narrated how she was attacked by a sadist neighbour while trying to rescue his girlfriend.
27-year-old Kirsten Ashby , a resident of Milton Keynes town in Southern England on the day she was attacked went to rescue her neighbour, Lauren Russell as her drug addict boyfriend, Raymond Bowen was attacking her.
In a fit of rage, Bowen who had earlier took cocaine and Jack Daniels whiskey poured petrol on her and used cigarette lighter to set her ablaze.
In a chat with a Radio show host in London, Kirsten said all the skin on her face melted away after the attack for which Bowen was jailed for life.
She said her attacker became aggressive when he thought her intervention could force the Social Service to take all their 5 children away.
Narrating her out of body experience, Kirsten said:
"I saw myself standing being given an option. I could live or I could die. First of all, I chose to die. I was going down, I was falling and falling, and then I was given a second chance. "In my trance I was asked again, 'Do you want to live or do you want to die?'

"Within that second, my daughter Maddison popped into my head. And I said, 'No, I'm going to live.' I came back up and carried on fighting my way through before I came out of coma."
Kirten who underwent 80 surgeries said her hair now feels like a lizard.
Her attacker is serving life sentence.