Nollywood
Hausa Actor Sadiq Sani Sadiq Biography & Net Worth: Wife, Age & Movies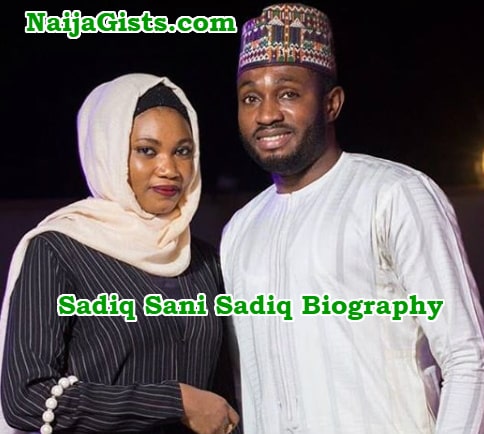 Kannywood Hausa Actor Sadiq Sani Sadiq Biography: Wedding, Pictures, Wife, Age, Movies
Sadiq Sani Sadiq is a prominent name in the Kannywood movie industry. Kannywood is the entertainment industry which produces Hausa movies. The Hausa are supposedly the third largest ethnic group in Nigeria. Sadiq Sani Sadiq is of the Hausa origin of the Nigerian peoples and a talented actor in the Kannywood movie industry. This industry is a branch of the Cinema of Nigeria.
Biography of Hausa Actor Sadiq Sani Sadiq
Sadiq Sani Sadiq needs no introduction to those familiar with the Kannywood industry movies. He is a well known Hausa actor who rose to fame sometime in 2012 although his debut movie was reportedly released in 2004. He seems to have carved out a name for himself, as he is feature in a huge number of Hausa movies. His remarkable talent was acknowledged in 2012 as he received the Henna Ball award for best actor of the year.
He was born in Jos plateau state in a town called Unguwar Gangare on the 2nd of February 1981. He has eight younger siblings. He had his primary education in the town of his birth and proceeded to Jos for his secondary school education. He later went on to study journalism at a diploma level in the University of Jos.
After which he proceeded into the movie industry. His love and interest for Kannywood was a dream he had nursed from quite a young age.
Despite challenges he faced at different points in time, Sadiq Sani reportedly persevered and is being rewarding for his strong stance and believe in his dream of becoming a well acclaimed actor. He has been featured in several movies some of which include: Maryam Diyana, Adamsy, Yan Uwan Jura, Hijira and a lot more.
Is Sadiq Sani Sadiq Married
Sadiq Sani got married in 2013 to Murja Shema. She is the younger sister of the former governor of Kastina State Ibrahim Shema. The wedding ceremony is said to have been an exorbitant affair which lasted for three weeks. It was quite a memorable event for not just the bride and groom but the kannywood industry as well.  Hausa film actors and actresses graced this grand occasion.
The groom, when asked about his acting career categorically stated that he has no plans of giving up acting after his wedding further stating that his wife was comfortable with his being an actor.
Sadiq Sani has been featured in best selling Kannywood movies like Wani Gari and Danmarayan Zaki. His role in Yan Uwan Juna shot him up to stardom. But Danmarayan Zaki remains his best movie yet. His instagram profile @saddiqsanisaddiq garnered quite a number of followers with the release of this movie.
Sadiq Sani Sadiq is a talented actor from his flawless performances to his ability to own a movie role; it is obvious he has quite a lot to bring to the kannywood industry. Despite his fame he has remained humble and owes his huge success to God. His name is definitely one of the names to look out for in the years to come.
Four Movies Featuring Sadiq Sani Sadiq
Ya Daga Allah
The movie was released in 2014 and produced by Saira movies. It stars Sadiq Sani Sadiq amidst a number of other well known kannywood names. A little bit of suspense, tragedy and of course romance is present in this movie.
Sabuwar Sangaya
This is movie that centers on romance and horror. Sadiq Sani stars as the male lead. It focuses on a couple who fall in love and run away in so they can be married as their relationship is kicked against by the female's family. This couple successfully elopes and ends up in a village afflicted by a strange virus which causes the affected party to develop a craving for human flesh and blood.
Ashabul Kahfi
It was directed by Aminu Saira and released in 2014 also featuring Sadiq Sani Sadiq. The movie narrates a story in the Quran. It successfully spins this movie and still remains faithful to the laws of the Quran.
Jamila
This is a classic romance story which sees a girl torn between two men one whom she loves and the other she marries to please her adopted parent, this story later ends in tragedy. It was directed by Ali Gumzak and released in 2016.
Top 5 Best Kannywood Hausa Movies Of All Times
Lamiraj
This movie was drafted to suit the modern day audience. It is a sober movie with good scenes.
Wani Gari
This movie was directed by Yaseen Auwa. It is set in a rural village and has a host of well known actors who deliver outstanding performances. A noticeable effort was put into the craftsmanship of the movie; it is viewed as one of the bestselling movies of the Kannywood industry. It features Sadiq Sani as well.
Ni Dake Mun Dare
It is reportedly another great movie worth mentioning. It is crafted to appeal to the modern mind. It is a well woven movie with a rather satisfying conclusion.
Makahon Gida
Produced by Aminu Saira this is a rare movie in that it goes completely in line with the Hausa principle of movie production. It is of a religious nature and not lacking in emotion.
Da Kishiyar Gida
This is an entertaining film focused on the female audience. It brings a great performance of a blend of comedy and drama.
Visit NaijaGists.com for more
---
Copyright © NaijaGists.com
All rights reserved. This material may not be reproduced, published, broadcast or redistributed in whole or in part without prior express written permission from NaijaGists Contact: naijagistnews@gmail.com.