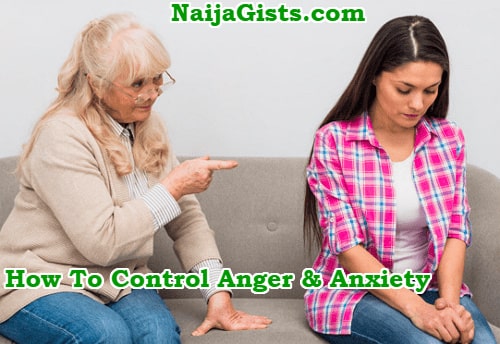 How To Control Anger, Anxiety And Other Negative Emotions
Anger is an emotion that occurs when we are upset over a situation. It can be seen as a normal and healthy emotion when we get mistreated or offended but it becomes a problem when we use it as a leverage to harm others.
How to control anger
We get angry mainly because our opinions clash with another person's opinion. Learning to control your anger can be quite challenging but it is very important because of its effect on your mental health and relationship with others. Here are some tips on how to tame your anger.
Stay calm:
You should express yourself verbally without trying to get physical with the person. Relax and think before saying anything and give room for others to do the same.
Channel your anger to something productive:
Take out some time to engage in physical activities or do something you love because these activities will help to calm the nerves, reduces stress and make you feel refreshed.
Write down your thoughts:
Get a journal, use it to express how you feel whenever you get angry.
Go for a walk or listen to music:
It will help to calm your mind. Consider the consequences of being angry and make a decision to stop.
Meditate:
Observe a quiet time. Practice deep breathing exercises to encourage relaxation.
Sleep Well
Get at least 8 hours of sleep every night.
Don't hold grudges:
It is hard to let go of your anger when you still have someone in mind. Grudges make you to seem bitter and you can never grow to be better.
Identify what makes you tick: Try to find out what provokes you to anger and if possible look for ways to control them whenever they start.
Create a distraction that can put your mind off the anger.
Talk to a friend or family member about your anger issues. They may provide ways for you to handle your emotions.
Seek professional help.
How to control anger in kids
Anger can also be exhibited by kids. When they don't get the latest brand of cloth or gadget they become moody and display anger. Most kids are angry most of the time and they don't get to enjoy life because of it. Here are some ways to help kids control their anger issues:
Find out who or what makes the child to get angry: You'll be able to prevent further reactions in the future.
Help the child to understand what he/she is feeling.
Let the child know that if is normal to feel angry but it is not okay to destroy things.
Don't shout or drive a child away when he's angry. It will make him feel unwanted.
Build your relationship with the child: Even if it is not the cause of the anger at least it can show the child that you care.
Seek professional help: Take them to anger management classes.
How to teach a child how to control anger
It is our duty as parents to guide our children since they don't really how to define a situation as a threat and so they just act what they feel at the moment. It is really hard to know how to help a child manage their anger but the following ways can help you to teach your child healthy management skills.
Set an example:
Most kids mimic the way their parents handle conflicts. So whenever you are angry instead of shouting or throwing things try to stay calm.
Talk it out:
Explain to the child why we can't just hurt others anytime they take thing from us because we get treated the way we treat others.
Help the child to label his feelings:
Not every child can explain what they are feeling.
Teach them ways to cope with it.
Like if someone offends them they can simply walk away or speak their mind without violence. Teach the child relaxation technique for them to be able to stay calm.
Search for other things the child can do when they are angry.
Establish rules that have consequences:
Rules like what you expect every member of the house to do and what will happen when they violate it.
How to control anger at work
Being angry at work can result from different situations such as unfair judgments, rejection, favoritism and so on. Here are some steps to help you control your anger while at work:
Practice patience:
Take deep breaths or count to 10.
Distract yourself:
Partake in activities that help to alter your thoughts. Like listening to music, playing game, chatting on your social media accounts, etc.
Take a break from the work environment:
Go for a walk or take lunch breaks.
Reflect on your feelings:
Write out how you are feeling. Don't release your anger or frustration on your colleagues.
Encourage good work etiquette:
Make sure that your own actions at work act as an example for others. Put your ego aside and show respect to the people in the office.
Listen:
Don't just react when an issue comes up. Try to find out the reasons for the other person's attitude.
How to control anger books
Most people feel shy to speak up about their anger issues so they resort to self help management by using books. Here are some books that can teach you how to turn your anger's energy into self acceptance energy.
Anger: Taming A Powerful Emotion by Gary Chapman.
The Anger Trap: Free Yourself From The Frustrations That Sabotage Your Life by Les Carter and Frank Minerth.
Rage: A Step-by-Step Guide to Overcoming Explosive Anger by Ronald Potter-Effron.
Anger: Wisdom For Cooling The Flames by Thich Nhat Hanh.
Letting Go Of Anger: The 11 Most Common Anger Styles And What To Do by Ronald Potter Effron and Patricia Potter-Effron.
Beyond Anger: A Guide For Men. How To Free Yourself From The Grip Of Anger And Get More Out of Life by Thomas J. Harbin.
When Anger Scares You: How To Overcome Your Fear Of Conflict And Express Your Anger In Healthy Ways by John Lynch.
The Anger Control Workbook by Matthew Mckay and Peter Rogers.
Anger: The Misunderstood Emotion by Carol Tavris.
Dance Of Anger: A Women's Guide To Challenging The Patterns of Intimate Relationships by Harriet Lerner.
What To Do When Your Temper Flares: A Kid's Guide To Overcoming Problems With Anger (What To Do Guides For Kids) by Dawn Huebner and Bonnie Matthew.
Anger Management For Dummies by Doyle Gentry.
Healing The Angry Brain: How Understanding The Way Your Brain Works Can Help You Control Anger And Aggression by Ronald Potter-Effron.
Taking Charge Of Anger: Six Steps To Asserting Yourself Without Losing Control by W. Robert Nay.
How to control anxiety and worry
Worry and anxiety are normal emotions in life. We become anxious when we feel that we are in danger. Constant worrying is harmful because it makes us to have negative thoughts that affect our emotional and physical health. Here are some things to do when you start worrying:
Practice yoga or meditation:
Practice relaxation techniques such as taking deep breaths, counting from 1 – 10, etc.
Find out what causes your anxiety and avoid them.
Focus on the present:
Worrying doesn't solve anything. Instead of thinking too much, look for things that can help you deal with your problems.
Write down the major things you worry about:
This helps you to express what you feel inside.
Transfer the bad energy to something else:
Don't allow the negative emotions to remain inside you, do things that will push them out of you.
Get moving:
Try exercise or short term activities that are enjoyable.
Confront your worries if not they will keep piling up and you'll become more anxious.
Build supportive friends:
Don't stay isolated.
Use prescribed medications:
Certain medications such as antidepressants can help to reduce worry and other symptoms that come with it.
Go for CBT:
CBT also known as Cognitive behavioral therapy is necessary to control thoughts, feelings and behavior.
How to control fear and panic attacks
Panic attacks occur when we fear, panic or get anxious. It can be quite overwhelming and scary for some persons because of the symptoms associated with it. To be able to control your panic attacks and fear, you need to:
Repeat a mantra:
You can come up with some words that you can use to calm yourself. It is more like a safe word that reassures you.
Take your medications:
Take them as soon so the panic attack starts, It will help you stay calm.
Take time out:
It is hard to think when you are filled with fear and anxiety but taking some time to calm down will help. Take deep breaths to control your breathing.
Keep trying to overcome it:
We learn well from our mistakes. If you don't handle the attack well the first time keep on trying. You'll surely improve.
Accept that you have a panic attack or fear:
It doesn't help when you try to push the fact that you have panic attacks or fear for something. You'll not be able to handle yourself when you face a crisis.
Avoid caffeine, alcohol and smoking that promote the condition.
Engage in light exercise:
It helps to improve your mood.
Try to sleep for long hours:
It will help to calm your nerves.
Educate yourself:
You can read books, do research or ask people who have a clue on how panic attack works.
Join support groups:
You get to learn from other people who have also experienced it.
Try therapy:
Try CBT and exposure therapy, to learn healthier ways of coping.
See a doctor:
Since it is hard to control the attacks alone, try a treatment plan that works for you.
For more motivational articles, visit NaijaGists Motivation Column.