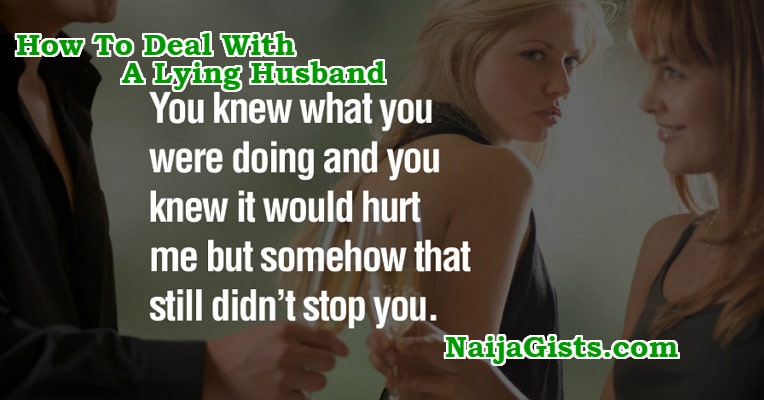 I can vividly remember the day a female family friend visited my mum. She was in tears as she told my mum how she found out that her husband was cheating on her.
Each night after work, her husband never comes home. He tells her he is hanging out with his friends while cuddling some other woman in her bedroom. Even at home, her husband became very much addicted to his cell phone that he forbade his wife from touching it.
The woman's suspicion was confirmed when her husband returned one night and while he was taking his bath; his wife went through his clothes and found a condom in his pocket. What would a married man who hasn't had sex with his wife for like a year be doing with a condom? The woman obviously didn't need a prophet to tell her that her husband was cheating on her.
Listening to her pour out her heart in tears to my mum, I tried putting myself in her shoes. There is no doubt that finding out that your partner, your better half, the love of your life is cheating on you can hit you like a ton of bricks. Your heartbeat suddenly increases and it feels like a bag of sand is lodged in your heart and your mind starts working overtime; thinking of the possible reasons why your better half cheated on you.
Is it that he no longer finds you pretty and sexy? Is the sex no longer good? What does the other lady have that you don't have? Funny enough, while many ladies would immediately opt for a divorce, most married ladies still stick to their marriage not minding the fact that their husband is cheating on them. They may stay because of religious reasons. Most churches are strongly against divorce. Others may decide to stay just to keep the family together; they may be scared that the kids may not be able to cope with the separation.
Then there are ladies that are not financially stable who will decide to stay because of their inability to take care of their finances. Some ladies may decide to stay because they feel that it's the best thing to do. You know, after staying with a man for many years, they feel it's only right for them to try and fix their marriage.
Whatever reason that necessitated your stay, it is never going to be easy dealing with a cheating husband. But here are some tips that could help you.
It is okay to grieve the relationship you once had.
Finding out that your significant other cheated on you can lead to a rollercoaster of emotions. Shock, anger, fear, pain, depression, and confusion are some of the emotions that you might feel. It will certainly take you a while to get over the pain and anger. Don't try to hide them. It is okay to let them out. Your marriage changed, it's only normal for you to grieve the relationship you once had.
Stay away from revenge
The moment you find out that your significant other is cheating on you, it induces a lot of anger and in that state you could do some things with grave repercussions. Doing things like shaming him on social media, destroying his properties, reporting him to friends will only induce temporary satisfaction but with time, the repercussions will come staring at you. No matter how angry you are, stay away from revenge.
Talk to him about his infidelity.
Talking to your significant other about his infidelity doesn't in any way translate to "confront him".  Yes, I know it can be really hard not to raise your voice at him or throw him some punch but at this stage you need to calm your female instincts so you can get all the information you need. Asking questions like, when it started, how long it had been going on, where he met her could help you get a clear understanding on why he is cheating on you.
You should equally demand that he comes clean about the whole affair. While he spills whatever he has to say, have it at the back of your mind that some of the information might be very hurtful. It's either you prepare your mind to hear the worse or stop talking when you feel the information is too much to take in. Take things slowly.
Request that he cuts off all contacts.
After he has spilled whatever information you requested, you should go on and ask that he cuts off all contacts with the other lady. That includes, deleting her mobile number and blocking her on social media. Men can be cunning most times, so it's only wise you ask him to do all these in front of you. In addition to that, you can also go ahead and request that he lets you know wherever he is and who he is with.
Request that you both get tested.
It doesn't matter if he tells you that he took precautions when he was with the other lady, he has cheated and now, your health is at risk and it should be your number one priority.
Little by little, try and become sexually intimate again.
There are some ladies that find it very much difficult having sex again with a husband that cheated on them while there are some that feel secure in their relationship once they start having sex with their husband. Well, you should do whatever works for you. If you think sexual intimacy is what you guys need, then you should go on with it. But it is important you go at your pace. And in as much as you are craving for this sexual intimacy, have it at the back of your mind that sex doesn't heal a broken relationship rather time does.
Attend couples counseling.
Couple counseling is not something that is very popular in Nigeria. But thinking about it, infidelity is not something that couples can easily get over no matter how hard they try. They may not be able to solve the problem by themselves, hence the need for a therapist who will help them talk with each other.
Take care of yourself.
After all is said and done, you can never be so sure if your husband has finally stopped seeing the woman. In that situation, you can't kill yourself. So instead of losing sleep wondering if your darling husband is with another lady, try your best to eat healthy foods, sleep very well, drink much water, exercise your body and yeah, have fun.
So dear Nigerian women, praying for your cheating husband is not necessarily the best way to handle infidelity in your marriage. Everything doesn't have to be solved with prayers.
You can't pray your husband out of his stupidity. It will be wise of you to explore the above options.
For more life-changing  relationship reports, visit our Romance Corner.
We have put together two great useful resources to make your relationship better.
We highly recommend these two great website for information on handling infidelity in marriage.
Useful Relationship Resources